Ethos Tahitian Tamanu Oil
Ethos Tahitian Tamanu natural organic oil heals your body & reverses the damage to your skin as you age, or have a condition that affects your skin.

Used as a cosmetic it keeps skin healthy and blemish free making it seem younger and fresh looking. Ethos health products have created the best natural oil to protect against free radicals to maintain the skins natural elastin and collagen fibres.

Tamanu oil also treats acne, acne sores and scares, sunburn, dry or scaly skin, insect bites, stings, herpes sores, anal fissures, nappy rash, skin eruptions and blisters.

This product comes in a pump bottle containing either 30ml or 50ml.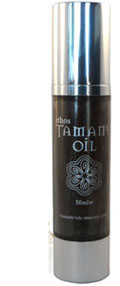 Order Ethos Tahitian Tamanu Oil
Ethos Heaven Tamanu oil is suitable for many skin aliments and conditions. It is a very potent and powerful healing agent with proven benefits.
More Information
Tamanu possesses anti-bacterial and anti-inflammatory properties to improve your complexion the natural way by reducing wrinkles, fine lines, pimples and insect bite scars for healthier younger looking skin.

Our Premium Grade oil is the 100% pure, natural and organic nut oil extract from the Tahitian 'sacred' Tamanu tree and does not contain any artificial chemicals, additives or preservatives.

It is simple to use by applying it liberally onto the skin as required. Please note that Ethos Tamanu Oil contains nuts in oil form and should NOT be used by people with nut allergies.

Other Ethos Heaven Products