Eye Drops for Computer Vision Syndrome
05-03-2023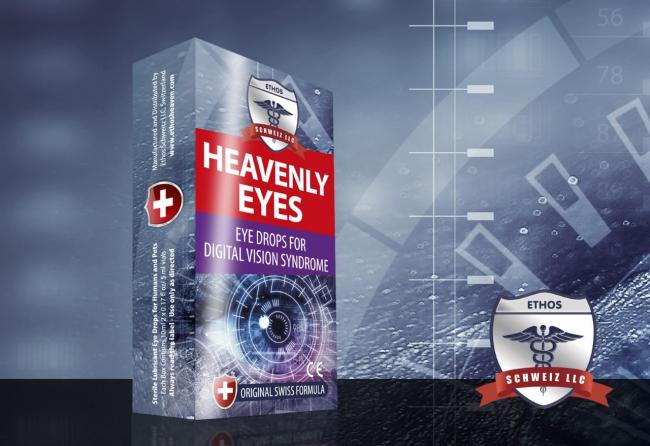 Ethos Heavenly Eye Drops for Digital & Computer Vision Syndrome Take the strain from your eyes with eye drops for Computer Vision Syndrome (CVS) and Digital Vision Syndrome (DVS) It is an advanced formula that can keep your eyes in good condition and even prevent that strain starting in the first place.

Few people would prefer to go back to the days when we depended upon landlines to make a phone call or needed to open an encyclopaedia to get information. The internet and smartphones have transformed life, yet is there a price to pay, not only in social skills but also in the health of your eyes? Your eyes are essential for everyday living and keeping them in good condition is an absolute priority. You should think about what you can do to help those precious eyes, and soothing eye drops are one of the answers.

Walk into any public place where people are just sitting around and how many of them will be using their smartphone, not for making a telephone call but for playing a video game or surfing the internet? There will always be a significant number and it is not unusual to see everyone around a table on their smartphones rather than holding a conversation across the table. Social life has certainly changed.

You will have seen examples of a long-married couple sitting seemingly without anything to say to each other. That is an uncomfortable, even disturbing image. Yet these days the best of friends on a night out may not be saying much to each other either in this age of the smartphone.

Smartphones almost by definition have small screens with websites designing pages that fit a screen. Yes, you can make the font bigger but then the pages will be too big for the screen. Something has to give! There is no doubt that smartphones put pressure on your eyes which weren't specifically designed to easily read small print. Then of course you must remember that as we age, our eyes are not as strong as they used to be. Even before old age, many people find themselves wearing prescription glasses.

It is not just smartphones that have begun to ask questions of your eyes. Our use of computers has increased enormously. Some people spend all day looking at a computer screen whether researching, keeping abreast of trends, writing script as a vital part of marketing, the list goes on. Even if you are sitting down all day, you are likely to feel tired when you finish work because of the strain your eyes will suffer from.

It is unlikely that you will spend your leisure time playing video games if you sit in front of a screen all day but there are plenty of people of all ages that do. Nintendo is a hugely profitable company because of the popularity of its games; Nintendo DS, Nintendo Switch and Nintendo Game Boy are amongst the most popular gaming consoles worldwide. Others include two from Sony, Sony Play Station 2 and Sony Play Station 4. Playing hour after hour strains your eyes as well, not matter the size of the screen.

It is unlikely that modern trends will become better from the point of view of the health of your eyes. What better reason to ease the pressure on your eyes by using eye drops that will soothe them after the strains you are putting on them?