Ethos Re-Vital Eyes NAC Eye Drops
Ethos Re-Vital eyes eye drops by Ethos Schweitz LLC are our lower cost brand, as no medical claims are made by us. The ethos eyes drops should be used in conjunction with a healthy diet and other dietary supplements as an additional way of preventing and treating already diagnosed eye conditions, including Cataracts, Glaucoma, AMD (age-related-macular-degeneration), dry eye syndrome, and floaters.

Re-vital Eyes (also known as bright eyes) is one of the most advanced unique formulations of lubricants containing the active ingredient N-Acetyl-Carnosine which is an effective naturally occurring antioxidant and anti-glycating agent.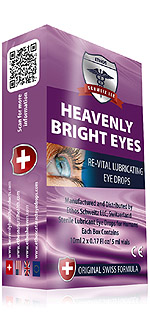 Order Re-Vital Eyes NAC Eye Drops
Re-Vital Eyes NAC Eye Drops are marked and sold as "Lubricating Eye Drops" to sooth and comfort tired and sore eyes.
More Information
Eyesight shouldn't be taken for granted and vision problems can occur at any age. Ethos heaven always suggest regular eye check ups, so if you do suspect an eye medical condition, diagnosis should always be done by a professional. As we age, because of our lifestyle and the environment we live in, more and more of us are suffering with some kind of eye disability. This is only going to increase as our population grows older whilst health departments worldwide cutback on eye surgery. Ethos eye drops have successfully over the years prevented, relieved, and treated the many harmful effects associated with degenerative eye diseases cheaply and in the comfort of your own home.
Ethosheaven highly recommends Endymion Powder (100% Pure L-Carnosine) which can be taken safely with Re-Vital Eyes drops to enhance eye treatment. Ethos L-Carnosine can also be taken as a supplement for general health.
Re-Vital eyes drops also provide relief from:
- Tired eyes
- Irritation from contact lenses
- Eye strain
- Blurred vision
- Burning of the eyes
- Dry eye symptoms
- Light damage
- Minor irritations
- Exposure damage from wind and sun
- Computer vision syndrome
The recommended usage of Re-Vital Eyes eye drops is to apply one to two drops in each eye, once or twice every day. For those with any kind of eye problems i.e. cataracts etc, should apply two to three drops at least twice a day in each affected eye. For more serious problems, the product must be applied regularly for at least four to six months or more; once an improvement has been felt, the dose can be reduced to a maintenance dose of one to two drops in each eye, once or twice daily. Contact lenses should be removed prior to inserting the drops.
Containing the exact same ingredients as Ethos Bright Eyes for Cataracts, Glaucoma and AMD Drops, logic suggests that they would have the exact same effects, but we cannot say nor imply this in any of our sales and marketing materials following the UK rulings in 2011 by the MHRA (Medicines and Healthcare products Regulatory Agency)
(All payments are taken outside of the UK and all orders are shipped from outside of the UK)
Ethos Re-Vital Eye Drops 2020 Testimonials
Living in retirement on the Mediterranean is wonderful but in recent months my eyes became very sensitive to bright light, and there is plenty of that here. I found Re=Vital Eye Drops online and they seem to have reduced the sensitivity of my eyes. A small price to pay for being able to spend the day out in the sun.
Sue, Marbella
Wearing contact lenses has always been an issue for me but on occasions, I use them rather than put on glasses. I was told my discomfort might be because my eyes were dry, and I should try to lubricate them. After trying Re-Vital for a period, I certainly feel less discomfort when wearing contacts so I'm continuing to use the drops.
Enid, Cardiff
I was never happy driving at night but now I live alone, I have to at times. It always seemed to put my eyes under strain, but I have reduced the strain markedly by regularly using Re-Vital Drops. The best thing I've ever done.
Tom, Walsall
Marcia Young, Brixton, London, October 2011
I ordered your ethosheaven RE-Vital Bright eye drops as I was diagnosed with the start of a cataract in my left eye in January. I did not want surgery or for them to get worse even getting one in my other eye and I so I gave your drops a try. Last week I went to another ophthalmologist and had my eyes examined. He said that my good eye was perfectly healthy and the cataract in the other is dissolving there is minimal yellowing of my lenses even for a woman of my age, from worry of needing cataract surgery within a year to nearly perfectly healthy eyes. I cannot thank ethosheaven and there staff enough for supplying me with this wonderful product. I even got next day delivery free of charge.
Antony Magee, Belfast, November 2011
Since starting using Re-Vital Nac eye drops in July, my eyes have shown a significant improvement after only 3 months. I can now read the menu when my wife and I go out to dinner. I don't have to use my magnifying glass reading the tabloids at all anymore, and they truly seem to be getting better daily. I am 68 years old and was very worried about facing surgery and want to thank you all so very much ethosheaven.
Terry Roderick, Wilshire, England
Great news to report! I have been using the ethosheaven eye drops for a month for cataracts in both of my eyes. First thing I noticed was that lights weren't so dimmed and hazy and have noticed that print is easier to read. I am near-sighted also, so being able to do crosswords and enjoy bingo is very exciting as it seem I have my life back and not so depressed. I really hope they do dissolve my cataracts completely.
Leon Brooker, St Ippolyts, Hertfordshire, UK
I purchased the Bright Eyes N-Acetyl-Carnosine (NAC) drops for my 10 yr old standard poodle Missy and have been applying the drops for a little over 3 months. Amazingly her eyes are now clear it has been a truly incredible experience to watch. She is more like her old self with renewed confidence and enthusiasm for life. Also our eye expert/canine ophthalmologist was extremely impressed with Missy's improvements. We cannot begin to thank you enough for this incredible product. I've now also brought the human bright eyes drops for cataracts for my old Mum (89) in a care home, as she is too old for surgery now. Fingers crossed they can make her life a little bit more comfortable in her later years.

Other Ethos Heaven Products