Ethos Bright Eyes NAC Eye Drops for AMD
Ethos Endymion Bright Eyes is the most advanced eye formulation product ever developed and contains lubricants, vitamins and N-Acetyl-Carnosine which is also a powerful super antioxidant. When these super drops are combined with a healthy diet, it has been proven that macular pigmentation in the eyes is vastly improved and this in turn protects the macula from damage.

Although AMD can be a scary thought as we age, Ethosheaven have created an amazing product to combat the onset of this debilitating disease which can be used for wet and dry AMD. Bright Eyes NAC Eye Drops for AMD contain the very special ingredient N-Acetyl-Carnosine (NAC for short) which is the only product of its kind in the world that has been scientifically proven to rejuvenate cells and repair damage.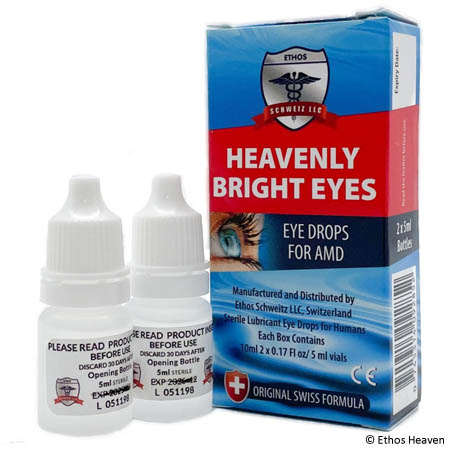 Order Bright Eyes Drops for AMD
Ethos Endymion Bright Eyes is the most advanced eye formulation product ever developed and contains lubricants, vitamins and N-Acetyl-Carnosine which is also a Powerful Super Antioxidant.
More Information
Common Symptoms of AMD
Straight objects can appear bent or wavy
A dark or blurry area can appear in the centre of your vision
When covering one eye, an object can change colour or shape
AMD affects our vision and therefore a number of daily tasks can become very difficult such as reading, writing, driving, watching tv and using a computer.
Bright Eyes NAC Eye Drops for AMD contain the following ingredients:-
Antioxidants: N-Acetyl-Carnosine (NAC) - 1.0%
Glycerin (lubricant) - 1.0%
Hydroxypropylmethylcellulose Sodium (lubricant) - 0.15%
Sterile Water (ophthalmic grade isotonic solution, pH 6.3 to 6.5)
Boric Acid, Citric Acid and Potassium Bicarbonate
Purified Benzyl Alcohol used as a preservative
Bright Eyes drops are safe to use alongside any other prescribed medication; just leave at least a thirty minute interval between applying different drops.
Recommended Usage
Using a course of Ethos AMD drops Bright Eyes can deliver the NAC directly into the eye where it can work immediately to repair the damage which may have been caused to the macular. Patients can use the eye drops in the comfort of their own home, relieving the burden of repeated trips to the optician or eye doctor for injections in the eye. The drops reduce and control blood vessel growth and bleeding.
The recommended course of treatment is to use one box containing 2 x 5ml bottles a week, for a period of six weeks.
80% of patients report seeing significant improvements within this time frame. Those with more severe conditions may need to continue their treatment for longer.
Apply Bright Eyes drops 5, 6 or 7 times per day to the affected eye(s)
one drop per eye is needed for each application
One of the easiest ways to apply the drops is to lie down or lean you head well back. By asking a friend, relative or partner to apply them for you helps to avoid any wastage. Pull your lower eyelid down and gently squeeze the bottle until a drop comes out. Press this drop onto the centre of your eye so that it can disperse into the eye. By gently pressing your tear duct for 2 mins after applying the drop you can avoid flushing out the medication. Leave at least a 30 minute interval between applying different types of eye drops. We also strongly recommend the following in conjunction with using the AMD eye drops:-
Ethos Bright Eyes Zeaxanthin & Lutein Capsules
Ethos Elan Vital (Ignotine)
Stopping or reducing cigarettes
Regular exercise as this will improve blood circulation to the eyes
Wearing outdoors sunglasses to block harmful ultraviolet rays
Avoiding high fat diets and saturated fats
Avoiding alcohol or keeping to the government recommended daily limit
Bright Eyes NAC Eye Drops for AMD Reviews
Rees, Cork
I took my eyesight for granted until last year when I was diagnosed with something called Age-Related Macular Degeneration. Quite a mouthful isn't it? Treatment worked but it made me far more conscious of the value of my eyes as I get older. I decided to try eye drops as a regular thing and having looked on the Internet decided on the product from Ethos because of its reputation. I've not regretted it and would recommend them to anyone.
Franco, Bayonne
I was convinced about needing to keep my eyes healthy when a friend suddenly had an eye test which said he had bad disease in his eyes. I went online and found AMD Bright Eyes and all the good things people were writing about it so I bought a box. I have been continuing to buy ever since and my eyes remain good.
Freida, Koln
If you have just a couple of minutes a day to put eyes drops into your eyes, you will not regret it. I began to worry about my eyesight getting worse so I tried them and everything seemed must better. I went to get an eye check and it said I was having no eye problems, I am still using the Drops just to be certain.
Fatma - Morocco
My doctor told me that diet, lifestyle and exercise can really help with avoiding or stopping AMD because I had gone to see him as I was worried. People in my family have lost a lot of their sight to AMD and they had no symptoms until it was too late. I bought bright eyes drops for AMD as an extra precaution to make sure I don't get the disease. Great customer service from Ethos health team.
Brian - Queensland Australia
After doing my research for bad reviews I found a great product!!! (ethos bright eyes drops for AMD) seen a big difference in my eyes over the last 2 months. Free postage as well what a bonus.
Marica - UK
I am currently on a vision rehabilitation course; I go to it weekly as I lost a lot of my site from AMD and various eye issues. Here I am almost retraining my eyes to see again, my daughter purchased AMD drops for me to use along with the course and I have seen a big improvement. After 3 months I am able to type this slowly whereas before I couldn't make out letters on a screen. I will continue using them using less drops a day as they are quite expensive.
Troy - New Zealand
I had an operation on my eye 6 months ago for AMD but it didn't give me the results I was hoping for, I still had poor sight after the operation. I purchased bright eyes drops as something different to try and so far they seemed to have worked to improve my vision even though I know I will never be cured of this horrible disease.
Katie - Georgia US
I got the bright eyes eye drops for my mom because he has AMD started and she said that it is working and she can really feel a difference. I bought the eyedrops AMD from ethosheaven and I was really impressed with the service! I didn't really like the option my doctor gave me and since was very early onset when we found it I wanted to explore other option. I'm glad I did and very grateful for the people at bright eyes who have helped me because I didn't know what I needed! They checked up on me to make sure my progress was good and they are just generally lovely people! Specially Peter Aldred x
Lee, Cheshire UK
AMD drops worked a treat for me, great company, great products. This isn't the first product I have bought from them and won't be the last.
Eddie R Clarke, Bridgetown, Barbados
I have been using these AMD ethos products since my eyes used to get tired with reading/computer work & used to wake up with my eyes in a terrible state .I had tried other ointments from boots and other chemists at night with no success These bright eyes amd drops work well for me - 2 drops in each eye at night before bed and 2 in the morning an hour before work - I hate drops in eyes when put in, but now no issues. Been using for over 6 months. Powerful eye drops that really work for my eyes. Thank you so much.
Sir Nicolas Law, Baldock, England
I went for my follow up last week, six week's after my last injection. I received the best news that I could get???.that there is no more swelling or bleeding and that things look good.
My retina specialist knows nothing of the micro acupuncture, the herbs, the vitamins, or the ethosheaven AMD Drops stimulation that I have been using. Of course, my doctor knows nothing of this, he is not into homeopathy, and I took the advice of friends and other ethos bright eye users. Great product ethosheaven thanks again.
Cherry Broadbent, Port St Johns, South Africa March 2011
My husbands's ophthalmologist uses an invasive procedure using a direct injection into the eye of a minute quantity of the drug used for colon cancer. It shrinks the leaking capillaries of wet macular disease. The information we have is it can only slow the degeneration of the macular. So far five sessions of treatment about every 4 to 6 weeks. The risk of infection exists. Since using AMD drops my husbands' vision has improved. The visual distortion in the side of a vision test square has nearly gone away. Sensitivity to bright lights and sun light is down and he reads more comfortably for longer periods of time.
I have had cataracts slowly developing in both eyes for over 5 years. I'm using the Bright eyes drops for cataracts also. This is why we had to try these AMD drops. As one cataract dissolved in one eye but wasn't so lucky with the other, Im waiting for surgery. After using ethosheaven AMD drops for a little over 3 weeks my husbands dark areas are becoming lighter. He is able to view his 15 inch monitor at 18 inches without strain (without glasses) and is able to use his Iphone, when he can work out how to use it???lol
Name withheld. USA 11/05/2012
I feel the drops to the eyes helpful and feel good about. I have wet macular degeneration in my right eye. Finally the wetness seams to have stopped due to injections every 6 weeks and taking the drops. The latest test also shows slight improvement in vision. The right eye is sharp and clear and I feel that the vision improvement has improved in both eyes using your drops. I will definitely continue with the AMD eye drops stimulation as a protection for my eyes. So, thank you so much"
I am happy to report a slight improvement in my ability to read with my left eye. Before, I was unable to read with the left eye at all. Now the vision distortion has cleared enough that I can read quite remarkable!!!! really after just buying 6 boxes. Thank you ethosheaven for all your help and advice. I will keep you posted on my (hopefully) continued progress."
Age-related Macular Degeneration (AMD) is a painless eye condition that causes you to lose central vision, usually in both eyes. Although painless it can have a severe impact on your ability to enjoy life and perform routine tasks that we usually take for granted. Central vision is what you see when you look straight ahead but in AMD this vision becomes blurred so reading can be difficult, as can driving.

Some people's eyesight may degenerate so slowly that the advancement of AMD has little impact on their daily life. However, for many people the disease can progress much faster and although peripheral vision is not affected it can have a huge impact on a person's daily life. Age-related Macular Degeneration affects one in three people over the age of 75 and is the leading cause of irreversible blindness among adults.

As the population ages into their 50s and 60s AMD is becoming one of the leading causes of blindness with an estimated 25 to 30 million patients afflicted worldwide.

Other Ethos Heaven Products