Ethos Bright Eyes Drops for Glaucoma
Ethos Heaven Bright Eyes Drops for Glaucoma are natural treatment eye drop to treat many of the diagnosed symptoms of open and closed glaucoma. Glaucoma is the leading cause of blindness in the over 60's. It can be a painful disease which can lead unfortunately to complete loss of vision. Having glaucoma can mean lots of costly optician bills and lots of hospital appointments. However with Bright Eyes Drops for Glaucoma the need for operations is reduced and trips to the opticians should also be minimal once treatment starts.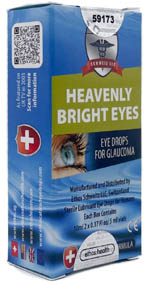 Order Bright Eyes Drops for Glaucoma
Bright Eyes Drops for Glaucoma contain N-Acetyl-Carnosine which is the only compound available that has proved in clinical trials to actually rejuvenate cells and repair damage at a cellular level.
More Information
Glaucoma is essentially a build up of fluid at the front of the eye. This then creates an abnormal pressure in the eye which can lead to damage in the optic nerve of the eye. The condition gets worse over time and if left untreated could result in blindness.

Symptoms of glaucoma can vary in severity depending on the pressure in the eye and how long the pressure has been present. Therefore, early diagnosis and treatment are imperative to ensure the best possible outcome. Once vision loss has started then it can be difficult to get it back and if glaucoma is left untreated it will lead to permanent vision loss and blindness.

Glaucoma is thought to be caused by diabetes, age and a history of glaucoma in the family. But more and more lifestyle choices are also thought to play a part in the advancement of the disease.

Signs of Glaucoma could include:
-Increased blinking
-Discharge
-Eye pain
-Blurred Vision
-Cloudiness of the cornea
-Enlargement of affected eye
-Nausea
-Red eyes
-Tunnel Vision
-Halo-glows around lights
-Sudden vision problems
-Dilated pupils
The condition of glaucoma is both damaging and painful. That is why Ethos Heaven Bright Eyes Drops for Glaucoma, a natural treatment to counter the disease, is seen as such an effective answer at a fraction of the cost of optician's bills and hospital visits and which may even lead to vision loss if left untreated.

The consequences of failing eyesight are devastating. While it is something more likely to affect older people, that is no cause for complacency for younger people.

Could Bright Eyes Drops for Glaucoma be the Answer?

These Drops contain N-Acetyl-Carnosine which has been proved in clinical trials to restore and repair damaged cells in the eye. No other compound can currently make that claim.

In 2000, Ethos Schweitz LLC based in Switzerland, developed Bright Eyes Drops to treat both Cataracts and Glaucoma. Not only do they fight the disease, but they also boost your immune system while naturally building up your resistance to these diseases.

The advanced formulation reduces the pain caused by glaucoma and you can self-administer the Drops in your own home. The Drops help reduce fluid pressure while reducing any damage to the optic nerve and the risk of your losing your sight.

Bright Eyes Drops contain the nutrient NAC N-Acetyl-Carnosine, proven in trials to counter the on set of Glaucoma as well as other eye diseases.

Treating Glaucoma with Ethos Bright Eyes Drops Daily

Bright Eyes Drops for Glaucoma are a worldwide success and have been since their introduction 20 years ago. 100% natural and 100% hypoallergenic, the Drops ensure your eyes are properly nourished while they fight the symptoms of glaucoma.

At Ethos Heaven we strongly suggest you have your eyes regularly examined whether you think you have a problem or not. Bright Eyes Drops can prevent problems arising incidentally as well as providing improved vision and life.

For each affected eye, we suggest 6-7 drops daily. Following that advice, a single box containing 2x5ml bottles will last about 7-10 days when treating both eyes. With your vision improved, you can reduce the dosage to 2 drops daily per affected eye.

81% of people that have used Ethos Bright Eyes Drops for Glaucoma have reported significant improvement in their eyesight within the first month. Light daily exercise and having a healthy diet and lifestyle is highly recommended when using the eye drops. You should try them in conjunction with our Ethos Endymion Powder, 100% pure L-Carnosine, for even greater results. This powder is a daily supplement designed to boost your general health.

Other Ethos Heaven Products