Ethos Bright Eyes Drops for Glaucoma
Ethos Heaven Bright Eyes Drops for Glaucoma are natural treatment eye drop to treat many of the diagnosed symptoms of open and closed glaucoma. Glaucoma is the leading cause of blindness in the over 60's. It can be a painful disease which can lead unfortunately to complete loss of vision. Having glaucoma can mean lots of costly optician bills and lots of hospital appointments. However with Bright Eyes Drops for Glaucoma the need for operations is reduced and trips to the opticians should also be minimal once treatment starts.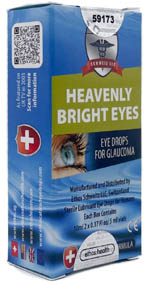 Order Bright Eyes Drops for Glaucoma
Bright Eyes Drops for Glaucoma contain N-Acetyl-Carnosine which is the only compound available that has proved in clinical trials to actually rejuvenate cells and repair damage at a cellular level.
More Information
Glaucoma is essentially a build up of fluid at the front of the eye. This then creates an abnormal pressure in the eye which can lead to damage in the optic nerve of the eye. The condition gets worse over time and if left untreated could result in blindness.

Symptoms of glaucoma can vary in severity depending on the pressure in the eye and how long the pressure has been present. Therefore, early diagnosis and treatment are imperative to ensure the best possible outcome. Once vision loss has started then it can be difficult to get it back and if glaucoma is left untreated it will lead to permanent vision loss and blindness.

Glaucoma is thought to be caused by diabetes, age and a history of glaucoma in the family. But more and more lifestyle choices are also thought to play a part in the advancement of the disease.

Signs of Glaucoma could include:
-Increased blinking
-Discharge
-Eye pain
-Blurred Vision
-Cloudiness of the cornea
-Enlargement of affected eye
-Nausea
-Red eyes
-Tunnel Vision
-Halo-glows around lights
-Sudden vision problems
-Dilated pupils
Reviews
Katie, Georgia USA
I didn't actually realise I had glaucoma until I went to the opticians for a routine check-up, I had no symptoms but he said I had it and it needed to be treated. I was offered a course of tablets to take and told if that didn't work I would have to have laser eye surgery to stop it from progressing to the stage where it was affecting my sight. I completed the course of tablets but when I went back for a check-up I was told it hadn't worked, I really didn't want laser surgery so I decided to research and find my own treatments which is when I found bright eye drops for glaucoma. I ordered two months' worth of the drops and went for another check-up after the two months was up, my optician was just as surprised as I was to find that the glaucoma had cleared up completely. It is possible it can come back but I am good for now and if it does come back then I know where to come.
Jane, West Sussex UK
I have a large family history with glaucoma found in most generations which my optician was aware of so when I got one it was picked up on quickly. He gave me a prescription for eye drops to lower the pressure in my eye but I was about to go travelling with my wife across America for a 7 weeks and I accidently left them at home. Luckily my wife found the bright eye drops for glaucoma on the internet and ordered them to where we were staying in America. I used them the whole time I was there and when I got back and my optician said the pressure has reduced.
Jenny, Heaton UK
I was too scared to have laser treatment so got looking for something different, found bright eye drops for glaucoma and they did the trick. Doctor said it was a lot better after them.
Stan, Maine USA
With Glaucoma running in my family I have been looking for a product which was safe to use and could maybe slow down the progression of symptoms, I have only over the past six months started to notice the first signs and it coincided with when someone mentioned this product to me so I thought I'd give it a try. I was very sceptical, as was my optician but so far I'm very impressed, I've always had sensitive eyes but this product doesn't cause any irritation for me at all, plus my symptoms have not worsened at all, it's still early days but I'm hopeful I've found the product I need.
Callum, Tapu New Zealand
I have sensitive eyes which means I have to be careful but a friend recommended these to me and I've had no problems what so ever.
Samantha, Bangkok
The support I've had from this company was really good, I ordered and used the bright eye drops for glaucoma. They were really good at advising me because I didn't really know how much to buy or which product.
Sophie, Singapore
I was trying to avoid having laser surgery for glaucoma, my optician said it was the best option but im really squirmy with stuff in my eye. Mum got these for me and they worked but I really liked them because they were so easy to put in.
Tammy, USA
With the bright eye drops for glaucoma you defo get your moneys worth! The optician tried to charge me over $1400 for laser surgery but I found these instead, they worked just as well in my opinion and I saved a load of money. Happy days.
Brian, UK
I noticed that my sight in the corner of my eyes was starting so go a bit strange, I went to the opticians thinking I needed new glasses and he told me I had developed increased pressure in my eye which had caused glaucoma and that I needed to treat it quickly before I lost my sight. He suggested laser eye surgery as the quickest way but my aunty had suffered from glaucoma and said that she just used drops. Of course I would chose drops any day over laser surgery so she recommended the bright eyes brand for glaucoma drops. So far so good, I'm only a month into treatment but the optician said that the pressure is starting to lift so as long as I keep on with the treatment I shouldn't have any permanent damage.
Andrew Jewel, Ireland
A VERY BIG THANK YOU to your glaucoma bright eyes eye drops. These make such a difference on my eyes and my life. Even after using one box (10ml), Why didn't I find you sooner!!. I'm 28 and have had glaucoma for most of my adult life; eye drops have always played a major part of my vision and quality of life. Your drops for glaucoma are better than artificial tears for me throughout the day and at night. Just wanted to say thank you!xx I just saw my eye doctor he was astounded by my vision improvement - from 20/40 to 20/20 in 1 eye and 20/25 in the other. The results speak for themselves.
Mrs Wilkinson, UK
Thank you for recommending the Bright eyes for my glaucoma. AFTER increasing the dosage to six times a day and extra cost for 25 days my eye pressure was lowered to 16 from 22. Twice daily seemed to maintain the 22 (two exams over 6 mo. period substantiated that). I am 2 boxes a month. My goal is to reach 14.
Janet Moulton, Turkey
I was diagnosed with glaucoma at the relatively young age of 49. I started can-c drops therapy and found I was highly allergic, the drops worked to lower my pressures for almost 2 months, but then my pressures started to creep up again. I had run out of options for drop therapy and was facing laser surgery. That's when I found your website and ordered some of your recommended products for Glaucoma. I gave your products a chance!!! And I wasn't disappointed. I am so excited and grateful for Glaucoma eye drops, my IOP went from 19 to 14 in 7 weeks! No Laser surgery for me, and my ophthalmologist asked me to bring product to my next check-up because he "wants to see what I'm taking about and get them tested. He hasn't seen such a remarkable recovery over so many weeks. You never know??? he may promote them, then you will owe me, Thanks so much for your wonderful products and support.
Michael Wildman
, who was the gentleman featured on the Richard & Judy Show trials, got such great results with Bright Eyes Drops he decided to get his wife to try them as she suffered with glaucoma. Prior to using Bright Eyes she had used two different prescribed medication, Xalatan and one other, for 2 years with no signs of any improvement. She was having six-monthly checkups and on her next checkup after using Bright Eyes Drops for Glaucoma her ophthalmologist was amazed to report that her intra-ocular pressure had dropped from 28 mm/hg to 14 mm/hg which is within the normal range.
Her eye specialist was so amazed at such great improvements since her last check up that they then sent her for more test and these confirmed that her periphery vision had also improved as well which they said is virtually unheard of with glaucoma sufferers.
Needless to say, they were both delighted with such brilliant results.
Ethos Bright Eyes Drops Treatment for Glaucoma
Ethos Schweitz LLC created back in 2000 Bright Eyes Drops for Cataracts and Glaucoma. These drops fight the disease as well as boosting your body's immune system and allowing your eyes to naturally build up a resistance. The advanced eye drop formulation reduces the pain of glaucoma and is able to be used in the comfort of your own home. By reducing the fluid pressure, the eye drops reduce the damage to the optic nerve and reduce the risk of sight loss. Bright Eyes Drops contain the nutrients NAC N-Acetyl-Carnosine which are proven to fight Glaucoma and other eye diseases.

Bright Eyes Drops for Glaucoma have had great success worldwide. As they are 100% natural and 100% hypoallergenic you can be assured that your eyes are being thoroughly nourished as well as the drops fighting the symptoms of glaucoma. The drops can be used in one or both eyes depending on your diagnosis.

We at Ethosheaven recommend regular eye exams in conjunction with using the Bright Eyes Drops to ensure the best outcome for your sight.

Dosage
For the treatment of the affected eye, 6-7 drops are recommended each day. 1 box contains 2x5ml bottles so should last approximately 10 days. Once your vision improves the eye drops can be reduced to 2 drops per affected eye each day. Contact lenses should be removed before using the drops.

79% of people using Ethos Bright Eyes Drops for Glaucoma report a significant improvement in their vision within the first 30 days. To enhance the effectiveness of the eye drops we also recommend using them in conjunction with our Ethos Endymion Powder which is 100% pure L-Carnosine. This powder can be used by itself as a daily supplement to boost general health is all areas.

Other Ethos Heaven Products