Eye Drops to Treat Infections for Dogs and Other Pets

Ethos Heavenly Eye Drops for Dogs & Other Pets are used to treat animals who are suffering from bacterial, viral or fungal infections. They are a natural and safe, sterile eye drop formulation designed to solve common eye problems as well as distress and irritation within days. This new range of organic Ethos eye drops for animals are strong, effective, top quality and incredibly effective eye drops, specially formulated for all pets of any breed and size.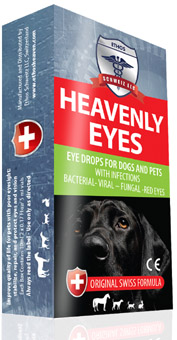 Order Eye Drops for Animal Eye Infections
Heavenly Eyes eye drops for all pets can treat infections including bacterial, viral and fungal issues. They use the most advanced Swiss eye drop formulation that acts as a powerful super antioxidant that clears most infections within 2-6 days.
More Information
Our company Ethos and our Bright Eyes drops range has been successfully trading worldwide since 2000. We have improved the quality of life for pets and animals with poor eyesight by stabilising, repairing and protecting eyes and vision. Our exclusive range of eye drops for cataracts are featured in Dogs World and Living with Dogs publications as well as being recommended on selling online platforms. (Do your own research as we do not hard sell).

It is advisable to treat all animals such as dogs, cats, rabbits, horses, kangaroos, etc. in the early stages of any eye condition after an eye problem is detected. After diagnosis of any optical or infectious condition, we advise checking the eyes regularly, especially in dogs. This is usually done by a vet or a professional canine ophthalmologist if you suspect that your pet has a serious eye problem.

When using Ethos Heavenly eye drops for the first 3 days, they should avoid potential eye irritants such as mid-day sun, chemicals, smoke and dust whilst also maintaining a healthy diet. We highly recommend a check-up as soon as possible before the condition worsens, and then regular eye examinations whilst using the eye drops to monitor the improvement.


Ethos Antibacterial Eye Drops for Pets are used for:
All Dog Eye Infections
All Cat Eye Infections
Any other Mammal Eye Infections
Inflammation Reduction
Pink Eye, Cherry Eyes
Conjunctivitis
Eye Discharge
Light Sensitive Eyes
Red and Swollen Eyes
Entropion
Dry Eye Syndrome
*Eyelid Neoplasia, *Uveal Melanoma, *Corneal Squamous, *Orbital Neoplasia, *Sebaceous Cyst, *Trichiasis, *Corneal Ulcers, *Progressive Retinal Degeneration (PRD)
Animal eye conditions above with a * needs a vet or a professional canine ophthalmologist to give you professional advice and guidance before using any kind of eye drops.
Please Note: - We do not advise these eye drops for dogs and pets with Cataracts or Glaucoma. In these cases, we highly recommended Ethos Bright Eyes NAC Cataract Drops for Dogs & Pets -
CLICK HERE
Certified Key Ingredients & Supplement Facts - Each 5ml Viral:
100% Organic Cold pressed Castor Oil (2ml approx.)
N-Acet (1ml approx.)
Glycerin (lubricant) - 1.0%
Saline Solution
How to use:
The suggested use of Ethos Heavenly Eyes eye drops is to apply two to three drops in each eye, once or twice every day. Always follow the instruction sheet insert.
Storage:
Unopened and opened bottles should be stored in a cool dark place, DO NOT keep in the refrigerator. Please keep out of reach of children. Please discard any open bottle 30 days after opening.