Eze Eye Drop Applicator Strips
ETHOS EZY-DROPS - EYE DROP APPLICATION THE EZY WAY!

Lenard L. Muroff, B.F.A., C.O.A. has worked in the field of Ophthalmology for almost 30 years, working along side other world-renowned Ophthalmologists and he has seen and experienced many changes within the profession. While doing preliminary examinations, patients were forever telling him how difficult it is to get eye drops into their eyes, and that the drops almost always end up running down their cheeks. With the high cost of medication, this wastage is expensive and, even more importantly, patients may miss the necessary dosage they require for their medication to be effective. This can be a serious problem, especially for patients using therapeutic eye drops like Bright Eyes Drops.

What makes Ethos EZY-DROPS unique is its Mylar, a reflective polyester on the top of the applicator strip. The Mylar serves as a mirror. The bulls-eye on the Mylar will help you direct the medication into the eye. The bottom of the applicator has a sticky part that will adhere to the eye drop bottle or single-dose dropper. It is also disposable when the medication that is attached is empty. Ethos EZY-DROPS comes with four application strips.

EVERYONE WHO USES ANY TYPE OF EYE DROPS WILL BENEFIT FROM USING Ethos EZY-DROPS

People with cataracts, glaucoma, AMD, dry eye syndrome, allergies, or who are sports enthusiasts or contact lens wearers, can use Ethos EZY-DROPS with any type of eye drop bottle.

Ethos EZY-DROPS is the do-it-yourself eye drop application strip that saves you time and money! An aid to independent living!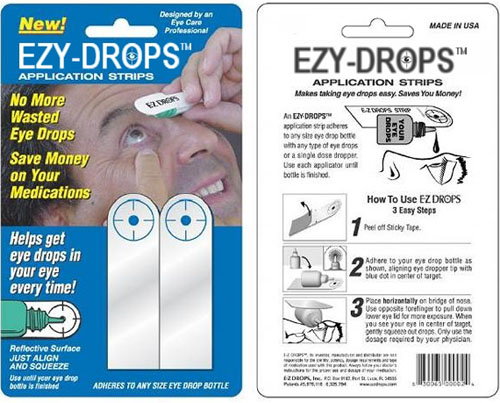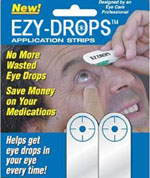 Eze Eye Drop Applicator Strips
Using Ethos Ezy eye drop applicator strips save wastage and gives faster and better results.
More Information
ETHOS EZY-DROPS - EYE DROP APPLICATION THE EZY WAY!

OPHTHALMOLOGY MANAGEMENT "Lenard Muroff has invented a way to help patients use eye drops properly, ensuring they get the proper dose."

OPHTHALMIC NURSING & TECHNOLOGY
"EZY-DROPS...has found its niche with patients who have difficulty instilling eye drops in their eyes. EZY-DROPS is a 'can't miss' product!"

SELF MAGAZINE - On-the-Go Health Kits
"A reflective piece of cardboard conveniently slips onto the bottle's tip, helping you to see where the eye drop dispenser is heading and aim accurately."
Reviews
Here's What Satisfied EZY-DROPS Users Say:
"I feel very independent since I started using EZY-DROPS. It is so good to be self-reliant."
Cecil T.J. Redman H.B.M. Chief, Retired Security and Safety Service - United Nations Headquarters, New York, N.Y. 10017
"What a wonderful idea, EZY-DROPS makes it EASY."
Bill Reed, Port St. Lucie, Fla. (Original bass singer of the 1950s group, THE DIAMONDS)
"Great! I'm going to send some to my grandmother in South Africa! I loved using the strips!"
Veronica Beukes, West Palm Beach, Fla.
"I would never get drops in my eyes without it. Really easy to use - I love them."
Doris O'Connell, Okeechobee, Fla.
"Well, they have been a miracle. I showed him (my father) how to do it and he uses them faithfully. It eliminated his anxiety and relieved my mother from the stressful situation. Thank you so much for developing EZY-DROPS!"
Daniel L. Hallforth, O.D. Florence, KY.
"At least 50 poorly compliant patients have used EZY-DROPS with outstanding success."
Ronald Scelfo, M.D., West Palm Beach, Fla.