Ethos Re-Vital Eyes NAC Eye Drops For Pets

Re-Vital Eyes for Pets helps soothe and rejuvenate domestic pets and ageing eyes in all animals with a medical eye condition. As they get older Pet's eyes and health can be a major and expensive concern for animal lovers. Ethos Bright Eyes Drops is one of the most advanced natural eye health formulation for pets eyes currently on the market. Ethosheaven always suggests that any pet or animal you care about that you suspect has an eye problem or is generally getting older, should have their eyes checked regularly by an eye expert such as a vet or canine ophthalmologist.

Sometimes animals inherit an eye disease or as they age our loved pets find it harder to fight off the free radicals that cause oxidative stress damage to their eyes. The lens of the eyes takes all of the oxidative punishment within the cells as a result of chemical imbalance due to age, diet, sunlight and pollution in the oxygen. Sometimes, but not always, the pet owner's lifestyle may contribute towards their pets eye conditions, i.e. smoking, lack of exercise, or an unhealthy diet.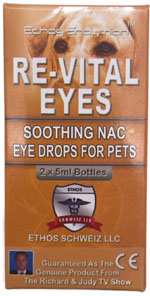 Order Re-Vital Eyes NAC Eye Drops for Pets
Re-Vital Eyes NAC Eye Drops are marked and sold as "Lubricating Eye Drops" to sooth and comfort tired and sore eyes.
More Information
Ethos Endymion eye care Re-vital eyes drops for pets contain the magical natural formula NAC N-Acetyl-Carnosine, which was successfully trailed on the Richard and Judy show back in 2003 by Peter Aldred the CEO of Ethos Schweitz LLC on humans. N-Acetyl-Carnosine is a powerful super antioxidant and is one of the most advanced eye formulation/supplement ever developed to put the twinkle back in your pet's eyes.
The suggested use of Re-Vital Eyes eye drops is to apply one to two drops in each eye, once or twice every day.
Each box contains 2 x 5ml bottles and should last up to 30 days
Ethosheaven highly recommends you should also supplement their diet with Ethos Elan Vital for pets, which is scientifically proven to actually rejuvenate cells to promote good health, wellness and longevity of your pet:, it can also be taken safely in conjunction with Re-Vital Eye ethos drops for pets to enhance the effects to help many other pet ailments and conditions.
Ethos R-V Eyes Drops are our lower cost bright eyes brand! (we make no medical claims for them), as they contain the exact same ingredients as Bright Eyes Cataract drops for Pets, logic suggests that they would have the same healing effects, but we cannot say nor imply this in any of our sales and marketing materials in the UK, following the VMD (Veterinary Medicines Directorate) in 2011 as Ethos Re-Vital Eyes Drops have now been classified as a medicinal product for animal use. Many thousands of our UK and the rest of the world satisfied customers appreciate the benefits, success, advice and good work we have provided to make you and your pets life more comfortable and cost effective.
We suggest you do your own personal research; We are proud to have been featured regularly in UK glossy magazines ''Dogs World'', ''Healthy Dog'' and have also featured on Dr Elizabeth Cohen news radio show in the USA as well as many other online forums, blogs and newsletters.
(All payments are taken outside of the UK and all orders are shipped from outside of the UK)

Other Ethos Heaven Products