Ethos Re-Vital Eyes NAC Eye Drops For Pets
Re-Vital Eyes for Pets helps soothe and rejuvenate domestic pets and ageing eyes in all animals with a medical eye condition. As they get older Pet's eyes and health can be a major and expensive concern for animal lovers. Ethos Bright Eyes Drops is one of the most advanced natural eye health formulation for pets eyes currently on the market. Ethosheaven always suggests that any pet or animal you care about that you suspect has an eye problem or is generally getting older, should have their eyes checked regularly by an eye expert such as a vet or canine ophthalmologist.

Sometimes animals inherit an eye disease or as they age our loved pets find it harder to fight off the free radicals that cause oxidative stress damage to their eyes. The lens of the eyes takes all of the oxidative punishment within the cells as a result of chemical imbalance due to age, diet, sunlight and pollution in the oxygen. Sometimes, but not always, the pet owner's lifestyle may contribute towards their pets eye conditions, i.e. smoking, lack of exercise, or an unhealthy diet.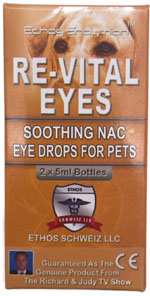 Order Re-Vital Eyes NAC Eye Drops for Pets
Re-Vital Eyes NAC Eye Drops are marked and sold as "Lubricating Eye Drops" to sooth and comfort tired and sore eyes.
More Information
Ethos Endymion eye care Re-vital eyes drops for pets contain the magical natural formula NAC N-Acetyl-Carnosine, which was successfully trailed on the Richard and Judy show back in 2003 by Peter Aldred the CEO of Ethos Schweitz LLC on humans. N-Acetyl-Carnosine is a powerful super antioxidant and is one of the most advanced eye formulation/supplement ever developed to put the twinkle back in your pet's eyes.
The suggested use of Re-Vital Eyes eye drops is to apply one to two drops in each eye, once or twice every day.
Each box contains 2 x 5ml bottles and should last up to 30 days
Ethosheaven highly recommends you should also supplement their diet with Ethos Elan Vital for pets, which is scientifically proven to actually rejuvenate cells to promote good health, wellness and longevity of your pet:, it can also be taken safely in conjunction with Re-Vital Eye ethos drops for pets to enhance the effects to help many other pet ailments and conditions.
Ethos R-V Eyes Drops are our lower cost bright eyes brand! (we make no medical claims for them), as they contain the exact same ingredients as Bright Eyes Cataract drops for Pets, logic suggests that they would have the same healing effects, but we cannot say nor imply this in any of our sales and marketing materials in the UK, following the VMD (Veterinary Medicines Directorate) in 2011 as Ethos Re-Vital Eyes Drops have now been classified as a medicinal product for animal use. Many thousands of our UK and the rest of the world satisfied customers appreciate the benefits, success, advice and good work we have provided to make you and your pets life more comfortable and cost effective.
We suggest you do your own personal research; We are proud to have been featured regularly in UK glossy magazines ''Dogs World'', ''Healthy Dog'' and have also featured on Dr Elizabeth Cohen news radio show in the USA as well as many other online forums, blogs and newsletters.
(All payments are taken outside of the UK and all orders are shipped from outside of the UK)
Re – Vital Ethos Lubricating Eye drops for all Animals 2020 Reviews
My pet dog Annie had red eyes a while ago and they seemed fairly sore. I was reluctant to go to a vet before making an investigation of possible reasons for Annie's problems. It seems that dryness is a problem with eyes and I had not realised that before. I bought Re-Vital Drops as a lubricant and the difference has been very impressive. They are easy to apply and Annie has had no problems for a while so I will continue to use these Drops.
Andrew, Belfast
Dogs need their senses as much as us and if we keep pets it is our responsibility to look after their health and that includes their eyes. My golden retriever, Drax, is getting old now so I expected some health problems but was surprised when his eyes began to look glazed. I was recommended Re-Vital Eyes by a friend and my order arrived promptly with clear instructions on how to apply them. Re-Vital is a great name and very apt because Drax seems to have been revitalised.
Jackie, Henlow
My cats like to wander at night and their eyesight is so much better than ours so even on a starless night, they are seeing things much more clearly than humans and many other animals. Those who are watching documentaries on lions or leopards will understand this as night is the time they are hunting. One morning when one of my cats was returning to be fed, I noticed he was blinking fast as though there was something in his eye. He was not letting me look more closely so I decided to get drops that could lubricate his eyes and maybe wash out any grit or dirt he had picked up on his travels. Enter Re-Vital Eyes Eye Drops which he was allowing me to apply. The problem went in a few days and I think it was the Drops that did the job.
Johan, Utrecht
What a Great Product Phillip June 18, 2012 New York
Re-vital eye drops for pets have greatly improved my German Sheppard's eyes (she's 9 yrs old). This was my second purchase for this item and well worth the money. My beloved pet has cataracts which make her eyes very dry. Now that I have been using ethosheaven eye drops regularly as per instructed by the helpful staff, she does not get the dryness anymore and her eyesight has definitely improved. GREAT PRODUCT!!. These must be used on a daily basis for best results maybe 6-7 times a day to get the best results with a course of 6 boxes.
ETHOSHEAVEN Drops DRAMATICALLY Improved her Cloudy Eyes - Our Dog can See AGAIN!!!!
Mrs Hubbard, July 21, 2011 from Dallas, USA
Our Jack Russell developed very cloudy eyes. She became, confused, falling and bumping into things almost daily and generally listless. Our vet determined said he was developing cataracts her vision will be severely impaired soon. I researched several pet eye drops and tried the two most recommended brands. The first brand, CAN-C seemed to irritate his eyes and I did not see any improvement. Re-vital bright eyes drops is the second brand I tried (delivered within 7 days international signed for). From day 3 - it soothed her eyes. Her eyes showed improvement within 10 days. she quit rubbing her eyes, her eyes stayed moist using the drops 6-7 times a day is a task though. Her eyes are now shiny, less cloudy. His vision has returned enough so that she can get around and bark at other dogs across the road.. lol.
After using the drops 60-70 days now he is bouncing around like a young bitch she once was. Her attitude and personality has improved with her sight and shows me more love than ever as she knows .I just want her better and healthy forever.. I would recommend ethosheaven eye drops to anyone with a senior dog or cataracts themselves .Goes to show doing your research pays off as your reading this you have done right. I would highly recommend this product for Prevention and Treatment of cataracts in pets. I am continuing treatment for at least another month.
Is this wonder eye drop remedy real for your PET!!! Very real x
Joanne Gibbs Enfield, London March 26, 2010
I have a Husky her name is Lucyloo- My partner and I would do anything to keep her healthy. 1 year ago I noticed a clouding in her right eye and was told she had cataracts developing she was only two years old at the time. Our hearts was broken and how was I going to tell the kids she was going blind-I purchased Re-vital eyes NAC eye drops for Pets drops and after 2 boxes (20ml) of this amazing product I saw her chasing the ball and playing with Kids out the Patio boors window- ever since I purchased 1 box of these amazing eye drops for pets once every 2 or so months-I love this product -Thank You x
Ethosheaven unbelievably is heaven for Freddie
Jackie Cole, Malaga, Spain. June 18, 2011
I am writing about ethos eye drops for cataracts. I have started using them on my six-year Springer Spaniel, "schomit" and I have noticed an improvement in his eyes - for which I am ecstatic. Since moving to Spain the sun really affects her eyes as the cataracts got worse, He is too old and over weight for any kind of surgery, so Im happy these ethosheaven products really do work.
Thank you so much for all your help and advice. Regards with love from us both x and a lick

Other Ethos Heaven Products