Marine Phytoplankton Super Nutrition
The Health Benefits of Ethos Marine Phytoplankton
Ethos Marine Phytoplankton is the essential nutrient that when added to our daily diet, can lower the risks of premature death from heart attacks, strokes and high blood pressure. The success rate of Ethos Marine Phytoplankton has been exceptionally high to combat other chronic illnesses such as depression, without bringing any of the side affects that some anti-depressant medication causes.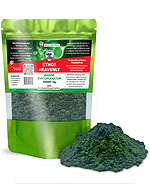 Order Marine Phytoplankton Super Nutrition
An incredible breakthrough in human nutrition has astonished medical experts: "When you give the body everything it needs to build healthy new cells then you get well."
More Information
What is Marine Phytoplankton?
Marine phytoplanktons are microscopic plants that live in fresh and salty water. In recent years they have been found to be packed with incredible nutrients that can greatly enhance our quality of life. When added to our daily diet, the phytoplankton help to build new cells and can fight off a wide range of health conditions and chronic illnesses.
Marine phytoplankton also has anti-ageing properties that can enable our bodies to heal themselves naturally and much faster. Even if we take care of ourselves, when we age not only do we physically look older but we are also at risk of degenerative diseases and mental illnesses. Our bodies are vulnerable to toxins and free radicals that come from our diet and lifestyle. Studies have shown that by taking Ethos Marine Phytoplankton your body is taking on more nutrients than by taking Omega 3 and 6 and vitamins A, B1, B3, B5, B6, and B12.
Other Illnesses and Complaints That Can Be Treated With Ethos Marine Phytoplankton:
- Chronic illnesses
- Dementia
- High blood pressure
- Depression
- Neurological support
- Joint complaints
- Alcohol and drug abuse
- Insomnia
Other Health Benefits:
- Improved immune system to fight diseases before they take hold
- Memory improvement
- Stress relief
- Vision improvement
- Improves skin to combat anti-ageing and wrinkles
- Increased energy levels
Ethos Marine Phytoplankton supplied by Ethosheaven is 100% pure and natural. It is produced to the highest quality for amazing results using the best grade phytoplankton.
At Ethos heaven we recommend that you treat any condition which has been medically diagnosed by a professional as soon as possible to ensure the best results.
Recommended Daily dosage:
Take one or two level teaspoons (2-4 grams) of powder twice a day or two capsules with a healthy diet.
Reviews
Russell Crawford, Littlehampton
When I got divorced my diet became much worse. I bought readymade food from the supermarket and the microwave became my greatest friend. I read about eating too much processed food but I didn't seem to care until I had to have a medical for work and I was told I was overweight as well as having high blood pressure. The advice I got was very worrying. I should start to cook fresh vegetables, avoid fried food and stop drink sugary drinks ( I have always had a sweet tooth). The whole thing was a shock to me and the thought of doing exercise was bad news as well. I am trying to reform and looked at the vitamins and minerals that I needed. When I read about Marine Phytoplankton, I contacted Ethos who were very helpful to me so I began to take it. Miracles do not happen overnight but I am feeling much better and my blood pressure readings are much better after just a few weeks.
David Carlisle, Cape Town
When I started to take Ethos Marine Phytoplankton I did so because I was impressed by the website and the calm way in which it described its products without making any miracle claims. I had been feeling depressed and wondered what to do about it. I has no money or relationship worries so I was concerned about my state of mind. Since starting a course of treatment I wake up far more positive in the morning as though Ethos has given me a daily boost.
Dave, Glasgow
I work on the oil rigs so I am away from home for months a time, I work long hours and its very physical work sometimes so when I do come home I often suffer from fatigue which can leave me feeling really low and quite depressed. I sleep for days at a time and don't really want to see any family or friends. I have tried many different products on the market but it was only when my wife found this for me that things started to change. I noticed that I wasn't getting as down and depressed about the situation I was in and that along with other lifestyle changes I've managed to feel in control again both physically and mentally.
Winny, USA
My dad suffered from depression for a long time due to some devastating events in his life. It came and went for about 2 years but every time he tried a new medication and we thought it was under control it always came back. I found marine phytoplankton super nutrition on the internet and it was something we had not heard of before. My dad tried it daily and after a while he really improved. He still had a long journey ahead of him but I think this product has helped him to release his depression enough to get the help he needs.
Mark, New Zealand
Marine Phytoplankton Super Nutrition helped my blood pressure lower, I was at high risk so tried this product. My blood pressure then reduced enough for me to start exercising which has reduced it even further. I now have a normal blood pressure and I am not in any immediate risk.
Pierre, France
Although I didn't feel in any particular risk of a heart attack, due to my high blood pressure my doctor warned me that I was at high risk, also because two men in my family died from heart attacks when they were fairly young. I started taking Marine Phytoplankton Super Nutrition when I came across it online simply as a precaution as I was a bit spooked by what my doctor had said. However when I returned to the doctor a few months later he was very impressed that my blood pressure have reduced so much. I had never heard of this product before but it boasts many healing properties as well as anti-aging. I haven't noticed many anti-ageing affects but my doctor definitely thinks I am at less risk of a heart attack after taking them.
Ibrahim, Izmir Turkey
I take this daily as an immune system boost and a general wellbeing product, I have to say I feel healthy and strong and since I started taking it I have a lot more energy.
Dale, Winchester UK
A friend suggested this to me after I suffered some injuries. I had lots of scars and was using lots of creams to try and make them less visible but it's not really worked. I looked for something that would speed up the recovery from the inside. When I found the Marine Phytoplankton Super Nutrition I was interested because it said that it speeds up cell recovery and has anti-aging properties that would help with skin. After using it for a while the scars have reduced in size and become much less noticeable, impressed so far.
Emine, Istanbul Turkey
Used Marine Phytoplankton Super Nutrition for scaring and healing when I fell only barbed wire, everything was nicely healed within a few weeks with minimal scaring.
Debra, AUS
I surprised my doctor with a massive reduction in my blood pressure after using these tablets. Of course I have made small changes in my lifestyle too but I definitely couldn't have reduced it by that much and so quickly without these tablets.
Neil B, 3 March 2015
5 Stars - Brilliant. Product totally natural, remarkable results. I suffered with frozen shoulders for ten years after one week on these, no pain at all,unbelievable!! I have been taking them now for 1 year since I had a triple by pass and my blood pressure is 120/80 so pleased, also energy levels increased noticeably. super food!!!
Mick Daniells Sept 2010 - Merseyside, UK
Marine Phytoplanton from ethosheaven is a brilliant product!! If you want to boost in your energy levels, I've felt the results in a very short period of time. A good friend of mine had severe cramps in her abdomen and lower legs (poor circulation). When I gave her Marine Phytoplanton , her pain stopped after 1 week. Another friend's son was throwing up all the time and it helped. another friend had pain and movement problems and it isn't as bad since taking Ethosheaven Marine Phytoplanton as well as his stamina increased. I have found the product a little pricey. But, it is well worth it.
Lucy Mcteague, Feb 2009 - County Down, Ireland
My better judgement got the better of me since doing my research I ordered Marine Phytoplanton from Ethosheaven .I've been taking it now for about nine days, and I have to say I feel more subtle. So far, the quality of my sleep has improved- I sleep deeply, and I get up early and walk the dog and feel great when I get up! My energy and general well being has overall improved throughout the day I don't get that down lazy feeling anymore. We'll see what else comes after my second course of use! So far, I'm chuffed!
Swee Kok Sing , March 2012 - Singapore
Ive just started taking Marine Phytoplanton and already are feel some amazing things happening. My eldest Son, who has all the dust allergies, is for the first time having a normal life . My son slept through the night for the sixth night in a row since I can remember. And as for me well it seems as though my body has decided to get rid of a whole lot of waste and toxic build up because my body has gone into a cleanse mode and I feel wonderful. Have had the best sleep of my life and can't say enough about ethosheaven Marine Phytoplanton. If I can help anymore promoting your products please ask.
Jose Malta de Sa Junior, April 2012 - Brazil
My Sex levels have changed- I went through a period of months after a major operation during which I felt exhausted after sex. I did not feel satisfied nor did my partner.. I now feel healthy, mentally and physically, and have energy to spare at the end busy working day for a great romancing evening. One very interesting side effect is that I am now dreaming sex. I'm not sure what my body was missing but Marine Phytoplanton seems like when I was 49years old. Who needs Viagra...lol

Other Ethos Heaven Products