Marine Phytoplankton Super Nutrition
The Health Benefits of Ethos Marine Phytoplankton
Ethos Marine Phytoplankton is the essential nutrient that when added to our daily diet, can lower the risks of premature death from heart attacks, strokes and high blood pressure. The success rate of Ethos Marine Phytoplankton has been exceptionally high to combat other chronic illnesses such as depression, without bringing any of the side affects that some anti-depressant medication causes.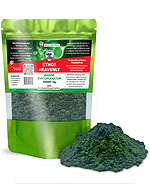 Order Marine Phytoplankton Super Nutrition
An incredible breakthrough in human nutrition has astonished medical experts: "When you give the body everything it needs to build healthy new cells then you get well."
More Information
What is Marine Phytoplankton?
Marine phytoplanktons are microscopic plants that live in fresh and salty water. In recent years they have been found to be packed with incredible nutrients that can greatly enhance our quality of life. When added to our daily diet, the phytoplankton help to build new cells and can fight off a wide range of health conditions and chronic illnesses.
Marine phytoplankton also has anti-ageing properties that can enable our bodies to heal themselves naturally and much faster. Even if we take care of ourselves, when we age not only do we physically look older but we are also at risk of degenerative diseases and mental illnesses. Our bodies are vulnerable to toxins and free radicals that come from our diet and lifestyle. Studies have shown that by taking Ethos Marine Phytoplankton your body is taking on more nutrients than by taking Omega 3 and 6 and vitamins A, B1, B3, B5, B6, and B12.
Other Illnesses and Complaints That Can Be Treated With Ethos Marine Phytoplankton:
- Chronic illnesses
- Dementia
- High blood pressure
- Depression
- Neurological support
- Joint complaints
- Alcohol and drug abuse
- Insomnia
Other Health Benefits:
- Improved immune system to fight diseases before they take hold
- Memory improvement
- Stress relief
- Vision improvement
- Improves skin to combat anti-ageing and wrinkles
- Increased energy levels
Ethos Marine Phytoplankton supplied by Ethosheaven is 100% pure and natural. It is produced to the highest quality for amazing results using the best grade phytoplankton.
At Ethos heaven we recommend that you treat any condition which has been medically diagnosed by a professional as soon as possible to ensure the best results.
Recommended Daily dosage:
Take one or two level teaspoons (2-4 grams) of powder twice a day or two capsules with a healthy diet.

Other Ethos Heaven Products