Ethos Heavenly Eyes Conjunctivitis Eye Drops

Find relief from conjunctivitis symptoms with our effective Ethos eye drops. Specifically formulated to soothe and alleviate the discomfort associated with conjunctivitis, our eye drops provide gentle relief from redness, itching, and irritation. Trust our clinically tested formula to help combat bacterial or viral conjunctivitis and promote faster healing. With our trusted solution, you can ease the symptoms and get back to clear, healthy eyes. Choose our conjunctivitis eye drops for effective relief and speedy recovery.
Ethos Eye Drops for Conjunctivitis is our contribution to the natural way to treat eye problems. While conjunctivitis is not as serious as some eye conditions, it is both irritating and painful. Heavenly Eyes is formulated to combat the soreness that you will feel. In these days of Covid, it is important not to touch your eyes and face too much and conjunctivitis is a condition that often tempts you to do so.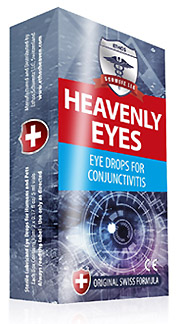 Order Conjunctivitis Heavenly Eye Drops
Heavenly Eyes is a very advanced conjunctivitis Swiss eye drop formulation, containing lubricants, vitamins and N-Acetyl-Carnosine which also acts as a powerful super antioxidant.
More Information
Sterile Lubricant Conjunctivitis Eye Drops for Humans and Pets.

Heavenly Eye drops is an eye solution lubricant to treat and prevent further conjunctivitis caused by allergies of foreign bodies and highly contagious airborne viruses that can be spread through sneezing and coughing.

Heavenly Eyes is 100% hypoallergenic and 100% Sterile.

Heavenly Eyes is free of animal ingredients and may be freely used by vegetarians.

Heavenly Eyes is safe and suitable for use on pets and other animals.

Heavenly Eyes is safe for use by diabetics and is compatible with all antidiabetic drugs.

Heavenly Eyes drops may be safely used by contact lens wearers (both hard and soft).

Heavenly Eyes is safe for use by people with glaucoma.

Heavenly Eyes is safe for use by people with cataracts.

Supplement Facts
Chloramphenicol - 0.5%
N-Acetyl-Carnosine (NAC) - 0.5%
Glycerin (lubricant) - 1.0%
Hydroxypropyl methylcellulose - 0.15%
Sterile Water, Boric Acid & Purified Benzyl Alcohol
Directions
Instil 1 or 2 drops in the affected eye(s) as needed.
The suggested use of Ethos Eye Drops is to apply 1 to 2 drops in each eye as eye maintenance every day. Do not exceed over 7-8 Drops in one eye a day.
Each Box Contains 10ml 2 x 0.17 fl oz/ 5 ml vials.
Always read the instructions - Use only as directed.
Unopened bottles should be stored in the dark in the refrigerator out of reach of children.
Manufactured and Distributed by Ethos Schweitz LLC, Switzerland.
Conjunctivitis is inflammation of the tissue that covers the white part of your eye. It is contagious and common amongst children. As a result, it spreads quickly where youngsters meet in nurseries and schools. You can see it in their eyes; it is commonly called ''pink eye'' because of how it colours the whites of the eye. It is not only a condition suffered by children, however.

It is important to treat pink eye as soon as it develops, and this is where Heavenly Eyes drops can help. They are easy to apply, and perfectly harmless.

What Causes Conjunctivitis?

Something as common as a cold
Viruses in general
Allergic reactions caused by dust, smoke, or pollen
Reactions to soaps or shampoos
There are other causes, but these will give you an idea of how easy it is to contract conjunctivitis. The most common form is a result of viral problems, and this form is the most contagious. It cannot be solved with antibiotics and will run its course, but Heavenly Eyes is formulated to both ease the itchy feelings you will have as well as address the root problem.
Keeping your eyes clean is something you should do as a regular habit and eyedrops are an excellent way to maintain their cleanliness. Cleanliness has been stressed by medical experts when it comes to both eyes and hands during this Covid-19 pandemic.
You should have your eyesight checked regularly anyway, whether you have a problem or not. Likewise, Ethos Heavenly Eyes is a great natural product to use regularly to keep your eyes clean and in a good condition.
Ingredients of Heavenly Eyes Conjunctivitis Solution
Chloramphenicol which is an antibiotic prescribed to counter bacteria
N-Acetyl Carnosine is a naturally occurring antioxidant
Glycerin is a lubricant
Hydroxypropil methylcellulose is another lubricant with a variety of other eye healthy properties
Heavenly Eyes Drops have made quite an impact in the international market. This great success, in a very competitive market, confirms that consumers have become increasingly aware of the effectiveness of quality eyedrops.
You can stop problems developing with your eyes by regular use of Heavenly Eyes. It is a product that will counter conjunctivitis but also reduce the chances of it developing. It is entirely natural, and easy to apply.