Bright Eyes Cataract Drops For Pets
Our pets, especially dogs, are some of our dearest friends therefore we want to ensure their lives wellbeing and eyesight are of the highest quality as they age. We are very proud of the Ethos Bright eyes eye drops formula that we developed in the year 2000. Over the years and the results obtained by research and feedback in helping animals retain and improve their sight is second to none.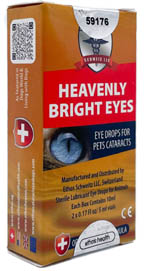 Order Bright Eyes Cataract Drops For Pets
Ethos Endymion Bright Eyes is the most advanced eye formulation ever developed and contains lubricants, vitamins and N-Acetyl-Carnosine which is a Powerful Super Antioxidant.
More Information
Diagnosis of any optical conditions for animals, especially dogs is usually done by a vet or a professional canine ophthalmologist. If you suspect that your pet has an eye problem, Ethosheaven highly recommend a check up as soon as possible before the condition worsens, and then regular eye examinations whilst using the eye drops to monitor the improvement is highly advisable. Many scientists and vets encourage cataract eye drops instead of surgery. To dissolve, cure and prevent cataracts with ethos bright eyes eye drops alongside Ethos Elan Vital for Pets, a healthy diet, regular exercise and other dietary supplements will assist in improving eyesight therefore avoiding the need of invasive and expensive surgical treatment.
It is advisable to treat all animals such as dogs, cats, rabbits, horses, kangaroos, etc. in the early stages of eye cataracts. Genuine ethos pet bright eyes drops also have the ability and strength to dissolve and treat mature cataracts to improve vision and the harmful effects of glycosylation often associated with pet degenerative eye diseases. Whilst checking the eyes regularly to see if cataracts or any other serious eye condition is developing in your pet, you should also avoid potential eye irritants such as mid-day sun, chemicals, smoke and dust. We at The Ethos Group are very proud of our eye drop testimonials from very satisfied customers and we look forward to receiving yours.
Ethos Bright Eyes Drops will dissolve cataracts without the need for any invasive cataracts surgery.
Also for treating the majority of all other eye conditions including Glaucoma, Age Related Macular Degeneration (AMD), Floaters and Dry Eye Syndrome.
Bright Eyes is 100% hypoallergenic and 100% Sterile.

Bright Eyes is free of animal ingredients and may be freely used by vegetarians.

Bright Eyes is safe and suitable for use on pets and other animals.
Bright Eyes Ingredients

Antioxidants: N-Acetyl-Carnosine (NAC) - 1.0%
Glycerin (lubricant) - 1.0%
Carboxymethylcellulose sodium (lubricant) - 0.3%
Vitamin A
Vitamin E
Buffered with borates and potassium bicarbonate and as a preservative.
Sterile water (ophthalmic grade isotonic solution, pH 6.3 to 6.5).
Purified benzyl alcohol.

Recommended Usage: - Ethos Bright Eyes Drops for Cataracts in Pets, Dogs, Cats, Horses, Livestock, Reptiles, Mammals and Wildlife.

The suggested maintenance use of Ethos Bright Eyes NAC Eye Drops for Animals is to apply 1 to 2 drops in each eye or eyes every day . If the animal has any kind of eye problems such as cataracts, Glaucoma & AMD may want to apply 1 drop several times hourly. Do not exceed over 3-4 Drops in one eye a day in smaller animals and 7-8 drops a day in small dog size and above.

Each genuine Ethos Bright Eyes for Pets 5ml bottle should last 30 days at two drops per day or 15 days at four drops per day. A box contains 2 x 5ml sterile sealed proof bottles; therefore each box can last between 30 and 60 days which represent excellent value for money.

Unopened bottles should be stored in the dark in the refrigerator out of reach of children. It is also recommended that you take 2 -3 grams of Ethos Elan Vital Supplement in powder form daily that also covers many other health problems.
Specification Sheet
Mouseover for larger view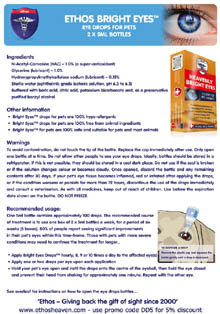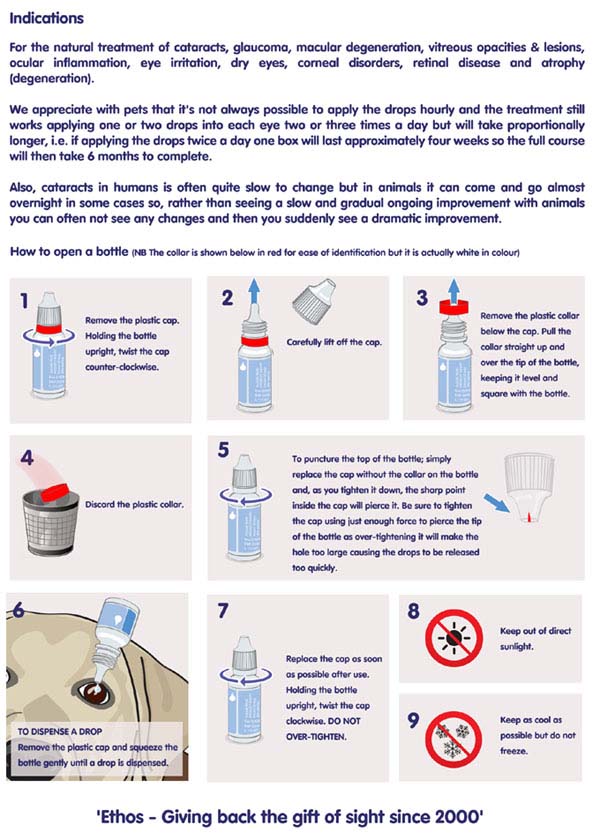 Reviews
Anonymous - May 2017 - A life-changing product
Our German Shepherd dog's later years took a turn for the worst when he began to develop cataracts in both eyes. Bright Eyes eye drops, over a period of several months, actually shrank the cataracts to the point of complete clarity in one eye, and almost the same in the other before he passed away aged 15. We are very grateful that we found such an effective, readily-available product which helped Teddy to enjoy good eyesight again during his last days. We have recommended Bright Eyes to others whose pets have cataracts, and we would not hesitate to use it again if our current pet Louie should need it.
Claire, Yorkshire UK
My dog, a poodle, unfortunately developed diabetes about 2 years ago. Our vet tried a number of different treatment and after a few months of treatment, regulated diet and exercise we managed to get the diabetes under control. Poodles are prone to developing diabetes and we soon found out they are also prone to cataracts as our lovely girl starting showing signs of one in her left eye. The vets along with her diabetes treatment, started treatments for her cataracts however it developed so quickly she soon had poor sight in both eyes. As she was still young, the vets tried a lot to help her but every time we had a new or stronger prescription it would seem to improve for the first few days and then get worse again. We got to the point where we were running out of options when a friend found bright eyes cataract eye drops and though we would have one more go.
When the product arrived I was sceptical since nothing else has previously worked, however I was thrilled to find that after a few weeks of application my little girl's eyes started to clear slightly. It took us 2 months of treatment due to how severe her cataracts were nearly gone. Of course we will have to have check-ups every few months as cataracts can easily return but I couldn't have wished for a better treatment, I only wish we had done this earlier so it didn't get so severe. I can't thank you enough both from me and my little girl for saving her eyes.
Chloe Arkansas USA
I have a cat called tinkles who is the cheekiest and funniest cat around! He's like another child to me and my husband so we were extremely worried when we noticed his eye one day looking cloudy. Over the new few weeks it got very white and we took him to the vets who quickly diagnosed it as a cataract. I had never known one on a cat before but after I researched it I found it to be quite common. The vet offered us a 2 month course of eye drops and medicine that would have totalled about $5000, money that we just didn't have at that time. Whilst I was researching I came across bright eyes cataract drops for animals. They were so much cheaper than what the vet was suggesting so we decided to try them. Tinkles himself hated us putting them in bless him but they were easy enough to apply without too much hassle and stress for him. We had to wait about a month before we noticed a difference but it was a considerable difference in the colour of his eye. We returned to the vets who was surprised that we had found an alternative treatment that had worked so well! We even bought extra in case it returns!
Loraine Colorado USA
Our kitten got a cataract we were surprised because it is rare in such young animals but we found bright eyes cataract drops and it cleared up soon enough.
Sarah, Kentucky USA
My horse, a four year old Appaloosa that I rescued started to get a very glossy looking eye. I knew it was something to worry about so called a vet when it started to get worse. The vet came and said it was a cataracts, he also said that the only option was an operation as it was very advanced. The call out fee alone was $350 and he said that the operation could anywhere up to $8,000 depending on where the operation was done, any complications and aftercare. I was in despair, there was no way I could find that kind of money and there was a risk of permanent damage to the eye which would affect him a lot. A friend told me about bright eye cataract drops because she had used them. It was great to see in just 4 weeks the colour started to come back to his eye and he was getting more like his old self.
My border collie developed cataracts in both eyes and the only option the vet gave us was a very expensive operation that we couldn't afford! After I found the bright eyes cataract drops I tried them and after 3 months of daily use he is pretty much back to himself. He had nearly lost all of his sight and now the only time he struggles is in dim light or in the dark.
Brian Gillis, Kettering, UK 29TH Jan 2016
Please regard our name as an endorsement of Bright Eyes, and pass on our recommendation of the product. If Teddy could talk, his comments would be obvious! Kind Regards, Brian Gillis.
Kaerllii-louisa Metcalfe - Blackpool, UK - July 2015
The vet diagnosed my dog which is a pedigree Bichon Frise with glaucoma and prescribed him this glaucoma treatment and for 9 months there was no improvement. I switched to using the Bright Eyes drops and in the last 3 weeks his vision is better and improving daily.
Ray Patterson - Aurora, Canada- June 2015
The Bright Eyes cataract drops for dogs are working very well for on our Jack Russell . She had really bad cataracts which completely covered her eyes. Now were slowly starting to see the colours in her eyes come back. Poppy starting to be her normal self chasing the other dog around the garden which she wasn't able to do before when her cataracts were really bad. Thankfully, finally she able to see much clearer now thanks to Ethos Bright Eyes. These drops have made a huge improvement to her life and vision. Bit pricey but great customer service.
Liliana muñoz - Dallas, USA - June 2015
My 12 year old Labrador is now able to run up and down steps which wasn't an option prior to using the Bright Eyes cataract drops. Thanks to these drops he is now able to see much clearer so we decided to start using them too and it seems to be working. Before using these Cataract drops my dog was unable to get out of the car or walk down the stairs without bumping into things and her eyes were very cloudy. But now her eyes are looking much darker and she is able to walk around much easier than before.
Hannah Davies - Amateur Showjumper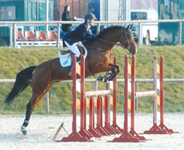 I am so thankful that i found Ethos Cataract Eye Drops for my horse. He started showing signs of not being well when we were out showjumping and i did some research online, after finding this product my horse could perform correctly and is perfectly happy with focusing on the jumps ahead and shows no signs of having any problem. Can highly recommend this product to anyone with an animal suffering from this condition.
Mick and Kay Huddlestone
Our Lhsas Apso is 9 years old and developed cataracts. We took her to our regular vet who confirmed that it was cataracts but said it required a series of liver function tests. These tests cost approx £400, although our insurers, Tesco, paid. After the tests we were told we would be refered to a specialist vet for surgery. We decided to phone these specialists to find out the costs involved and were told that this was between £5,000 and £7,000, and included re-doing the tests again as they would not accept the first tests. We spoke to Tesco and they said we were only covered for £2,500, of which we had already spent £400. As we were unable to cover any difference we thought our pet would have to continue to suffer. She was unable to get down the stairs unaided and bumbed into garden pots and household furniture.
We then explored the internet and found Ethos Eye Drops. The cost of these were only a small percentage of surgery costs, but never the less we spoke to Tesco to see if they were covered and were told yes. We bought the first pack (2 bottles) and started to apply. Within 2 weeks we believed they were making a difference so bought another pack and continued the treatment. Slowly but surely we noticed a difference, with our dog coming straight downstairs 8 out of 10 times, and fewer accidents. At this point we claimed from Tesco, but were told they were not covered as the vet had not prescribed them. We told Tesco we had received the go ahead from them and after listening to the recorded call agreed. They said they would pay for any drops brought prior to that day. This covered us for 4 packs in total.
Time has moved on and the drops continue to make a difference. By the time we have finished the 4 packs we believe that although the cataracts will not have disappeared the dogs life will be massively improved without the expensive and risky surgery.
For any owner, finding themselves in our position, speak to your vet and if they prescribe the drops I'm sure Tesco, and other insurers, will pay out on insurance, but please check beforehand. We believe that these drops do work and we are learning all the time about how best to apply. When the 4 packs are completed we will monitor the eyes and consider more, if required.
Jill Davison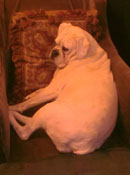 I have a boxer dog called Poppet. She is now 11 years old. Boxers have a tendency towards eye problems because of the bulging nature of their eyes and because they are stupid and don't quite get the concept that they can actually go round things! A few years ago, Poppet had a corneal ulcer in her eye. These are awful as the ulcer eats into the eye and they are incredibly painful.
Coventional treatment involves eye drops and scraping the edges of the ulcer to encourage new cell growth (a simplistic explanation) If this fails, which it frequently dose, the next stage involves sewing the eye shut in the hope that the eye heals behind the lid, Unfotunately, the healing process (if any) cannot be monitored as the eye is sealed shut- usually for a few weeks. Poppet went through all these stages and, luckily, her eye did heal because the last option is removal of the eye.
Obviously, this was all extremely traumatic for her and three weeks with a boxer in a Buster collar is no joke! Scraped walls, things knocked flying and a plastic cone which nicely fills up with boxer slobber! All good but then, after a while, she got another ulcer in the other eye. This one was much worse and the eye drops from the vet seemed to burn the eye and the scraping was so painful for Poppet. At the point when the vet said she wanted to stitch up the eye, I decided to do some research and discovered your site. After a lengthy telephone conversation, I decided to give the Re-vital eyes drops a go.
Well, I am pleased to say that the ulcer has gone without any vet intervention. There is some scar tissue but the ulcer has definitely healed. Whereas I was putting the drops in frequently throughout the day, now I do them morning and night as maintenance. Poppet still gets very bloodshot eyes, particularly when tired, but when that happens I just put the drops in more often. The drops are not cheap but neither are vets and, at the end of the day, I just wanted Poppet to be well.
I really recommend that people give the drops a try- have a bit of faith! I don't care why they work or what's in them- they work!! My mother (85 years old) now has them do for her streaming eyes so watch this space!
"Bright Eyes Drops for Pets IT WORKS!"
LC Hughes
My dog started to get cataracts in his eyes. He was starting to walk into things and not being able to see to play catch without getting hit in the head with the ball. You could see him starting to give up and not wanting to play much anymore. Being in the medical field I knew that there was not much that could be done and he would eventually go blind and surgery would not only cost a small fortune but could possibly cost my pet his life which would be devastating to our family. But being the person I am I started researching alternative solutions (if any) and came across Ethos Bright Eyes Cataract Drops for Pets. After reading Testimonials and watching the video on this product I decided to give it a try.
I have just finished the 4th bottle and have seen a significant improvement in my pets eyes. My pet is now up and about playing like he used to when he was a puppy. He still has a bit of trouble in darker surroundings but he is much happier and full of life again!
I would highly recommend Ethos Bright Eye Cataract Drops for pets.
"Zoe the French Poodle Regains Her Sight!"
Sarah Swinglehurst - Hyde, Cheshire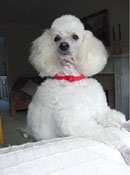 A friend of mine, Dr Hodgkinson, ordered some Bright Eyes drops for his dog Zoe who had cataracts back in October. Zoe is nearly 15 and he didn't want to put her through the trauma of an op at her stage in life. Six weeks later Dr Hodgkinson was back on the phone saying that Zoe had barked at a horse outside the window for the first time in ages.
When I spoke to him after another six weeks he told me she is able to see other dogs now, he can tell as she now barks and has interaction with other dogs whereas beforehand she would not seem to notice them. (Dr Hodgkinson asked me to mention that his qualifications are electrical engineering and not medical.)
I've attached a picture he sent me of her so you can see what she looks like !
"IT'S A MIRACLE My Beautiful dog 'Faith' can see again! "
Susan Peel from Stockport, Cheshire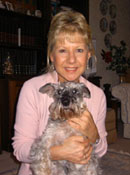 My Beautiful dog 'Faith', a miniature Schnauzer, became blind with Cataract 9 months ago and as she is also deaf her sight was especially precious to her.
After using your Bright Eyes drops for just two weeks the improvement is a MIRACLE.
She can not only make out shapes, she is also more alert and can make it to her food before the younger Schnauzer can muscle in. This is after just TWO!! weeks.
We look forward to her continued improvement and we can't thank you enough.
I am telling dozens of people about your product and wish you every success.
At the earliest hint of a eye problem like discoloration of the eyes in your animal, we highly advise a health check up with an eye test to get a veterinarian's opinion and diagnosis. If diagnosed with an eye disorder such as Cataract or Glaucoma we highly recommend ASAP you do your research on cataract eyes drops.

We guarantee Ethos Bright Eyes Drops for Pets is one of the best cost affective products available to use for painless and surgery free treatment for cataracts .By using our world's bestselling Pet cataract product you can minimise the pain and stress caused to your pet whilst also saving on costly vet bills. Ethos natural ingredients are specifically selected for their healing properties to promote a better quality of live and vision improvement daily.

When any beloved pet ages there is a possibility that cataracts or any other eye disorders may occur. Ethos Bright Eyes Cataract Drops for Pets developed a formula 15 years ago with a 79% improvement rate for maintaining good eye health for animals which was originally tested on humans to treat cataracts, glaucoma and AMD.

During the natural ageing process animals may find it harder to fend off free radicals that can cause oxidative stress damage, especially if they have any other illnesses or medical conditions such as diabetes and heart conditions, all of which could make cataract surgery risky. Blood flow to your pets` eyes decreases with age causing deprivation of nutrients essential for healthy eyes, good vision and a happy and content life.

Read the Dogs World Feature On Cataract Drops For Pets Here
Read the Healthy Dog Feature On Cataract Drops For Pets Here