Bright Eyes Cataract Drops
As seen on the Richard and Judy Show. Watch the Richard and Judy Show video here.

Ethos Heaven Endymion Bright Eyes Drops for Cataracts have been our most popular and best selling genuine ethos product on the market for over 15 years. In 2003 our eye drops featured on the UK Richard and Judy show with outstanding reviews which made them the best selling natural alternative to cataract surgery worldwide.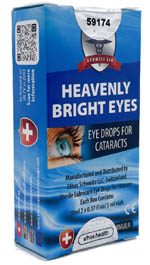 Order Bright Eyes NAC Cataract Drops
Ethos Endymion Bright Eyes is the most advanced eye formulation product ever developed and contains lubricants, vitamins and N-Acetyl-Carnosine which is also a Powerful Super Antioxidant.
More Information
Ethos Bright Eyes NAC Drops will dissolve cataracts without the need for any invasive cataracts surgery.
Also for treating the majority of all other eye conditions including Glaucoma, Age Related Macular Degeneration (AMD), Floaters and Dry Eye Syndrome.
Bright Eyes is 100% hypoallergenic and 100% Sterile.

Bright Eyes is free of animal ingredients and may be freely used by vegetarians.

Bright Eyes is safe and suitable for use on pets and other animals.

Bright Eyes is safe for use by diabetics and is compatible with all antidiabetic drugs.

Bright Eyes drops may be safely used by contact lens wearers (both hard and soft).

Bright Eyes is safe for use by people with glaucoma.

Bright Eyes is safe for use by people with cataracts.
This is the comprehensive list of eye conditions Ethos Bright Eyes NAC Eye Drops will address:
Cataracts
Intraocular Pressure Associated With Glaucoma
Age-Related Macular Degeneration (AMD)
Vitreous Opacities and Lesions
Computer Vision Syndrome
Contact Lens Disorders
Ocular Inflammation
Dry Eye Syndrome
Corneal Disorders
Chronic Eye Strain
Retinal disease
Blurred vision
Presbyopia
Floaters
Bright Eyes Ingredients
Antioxidants: N-Acetyl-Carnosine (NAC) - 1.0%
Glycerin (lubricant) - 1.0%
Carboxymethylcellulose sodium (lubricant) - 0.3%
Vitamin A
Vitamin E
Buffered with borates and potassium bicarbonate and as a preservative.
Sterile water (ophthalmic grade isotonic solution, pH 6.3 to 6.5).
Purified benzyl alcohol.

Common Symptoms of Cataracts include:-

Eyes become cloudy fuzzy, foggy, or filmy vision
Colors do not seem as bright and clear
Driving at night when oncoming headlights seem brighter
The sun and daylight are making your eyes feel uncomfortable than normal
More visits to the opticians for upgraded eyeglass prescriptions
Double & Blurred vision
Bumping into furniture and other visual accidents the may occur around the house
You may not be able to recognize friends and family at a distance
Better near vision (temporarily in farsighted people only)
Note: These symptoms also can be signs of other eye problems.
Recommended Usage:
- Ethos Bright Eyes Cataract Drops for Humans
The suggested use of Bright Eyes NAC Ethos Eye Drops is to apply 1 to 2 drops in each eye as eye maintenance every day. Those with any kind of eye problems such as cataracts, Glaucoma & AMD may want to apply 1 drop several times hourly. Do not exceed over 7-8 Drops in one eye a day.
Each genuine ethos bright eyes 5ml bottle should last 30 days at two drops per day or 15 days at four drops per day. A box contains 2 x 5ml sterile sealed proof bottles; therefore each box can last between 30 and 60 days which represents excellent value for money.
Unopened bottles should be stored in the dark in the refrigerator out of reach of children. It is also recommended that you take 2 -3 grams of Ethos Endymion Carnosine Supplement in powder form daily.
Specification Sheet
Mouseover for larger view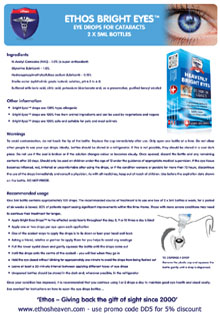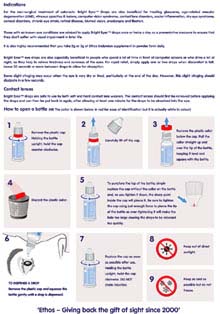 Reviews
Brian Masters , Colchester UK Oct 2016
Won't go into too much detail but I've been having problems with my eyes for years, got cataracts a few years ago and I've tried everything. Tried all the home remedies and all the stuff from the doctor but nothing really did anything. Found these drops and after the first month they improved a lot. Decided to do another course and they were a lot better. I know my eyes can never fully recover from cataracts but they are now a lot better than I ever thought they could be.
David Long, Surrey UK Oct 2016
Must be good cos I can see again! Haha but really thanks guys its worked a treat. My optician tried to sell me an operation but I found this much cheaper and no invasive surgery.
Amy, Canada
Took a while for my drops to really make a difference however slowly but surely my eye is getting better. I didn't realise until I compared pictures a month apart how much of a difference these eye drops were making and I'm hoping if I continue to use them it will improve even more.
Sarah, Manchester UK
So impressed, worked really well. I had a cataract starting in my right eye and its not far from gone. Only used the drops for 2 months- I would recommend to anyone!
Emily, Canada
I bought these for my mom who is 78 years old, she said her eyes were getting weird like cloudy and couldn't see good. The doctor said it was a cataract and our friend told us about these bright eyes cataract drops. We got them and after about a month she said there was a big improvement so we are going to keep going with them.
Daisy Amelia Brewer, East Sussex UK (January 2016)
I was diagnosed with cataracts at a routine eye test approximately 12 years ago, it may have been longer ago. At this time I happened to see Richard and Judy recommending Ethos Eye Drops, so I made contact and used them regularly around six/seven times a a day and during the night. I found them to be very soothing.

A few weeks ago I had further eye trouble, very sore and bloodshot eyes, my doctor diagnosed severe blepharitis, but to my joy he could see no trace of cataracts. I was given wipes and anti-biotic eye drops. I followed his instructions for 3 months, also using a mixture of tea tree cream and honey on my eyelids, sticky but very effective, this followed advice from fellow sufferers. I was told blepharitis is a chronic disease of the eyes with no cure, however so far I am clear of it. I continue to use ethos drops and the honey and tea tree mixture, this can be easily disguised by using the magical eyeshadow supplied for blepharitis sufferers.

I have recommended Ethosheaven Bright Eyes eye drops to many people, I will never be without them.
H. Long from China (October 2014)
About one year ago, I've bought some of Ethos Bright Eyes Drops for my mother, because since 2002 she had been suffering from glaucoma that followed also with cataract and syndrome of high intraocular pressure, due to that fact she suffered her first operation in 2002. Even so her eyes still got worse in the following years, some times after waking up she felt there was something like curtain stayed in her eye and made her vision blurred, she even lost her vision of right eye in 2012.

My mother told me, after using your eyes drops, about 5-6 times everyday, her left eye is sharper and clearer than before, and she felt also comfortable every time after using drops. Although the syndrome of acute high intraocular pressure occurring again in june 2014,her doctor must perform another operation for her left eye. But my mother said that that eyes drops worked very well during the whole healing process and provided her a lot of comfort. Up to now her vision of left eye is raising gradually from 0.1 to 0.3 and we hope it would be even better. So we appreciate it very much and we hope that your excellent products could help more people in the future.
Carmen Davis - Kitsap County USA (May 2014)
Prior to using BRIGHT EYES DROPS FOR CATARACTS, I saw hazy translucent-like white spots going across my line of vision and these spots seemed to get bigger with time. I finally went to see an ophthalmologist and he tried to convince me to have these cataracts surgically removed. That would have cost my insurance company $5000 per eye.

I did not like the idea of invasive surgery, so I did a thorough search of the internet and found your company:

REFERENCE MY FIRST ORDER DATED February 3 2013:

Upon receiving my order, I immediately began applying 2 drops of BRIGHT EYES in each eye 2-3 times every day. Each time I would apply these drops, I would keep my eyes closed for a couple minutes afterwards. It was about the 4th week, I believe, that the cataracts gradually started to disappear from my line of vision. Even after finishing up with the drops, the cataracts continued to fade and it was by the end of the 2nd month that I noticed there was no trace of cataracts.

It was just in the last few weeks of this month (May 2014), I started to notice a cataract in its early stages in each eye. So that was when I decided to order more of your eye drops.

Carmen Davis - USA - 31ST August 2014
UPDATE.
I should have sent this 6 weeks ago:
The BRIGHT EYES DROPS FOR CATARACTS have totally cleared up the beginnings of a cataract in both eyes. Also, there was a side benefit. I was suffering from dry eyes and eye strain due to overuse of the computer. I went to 2 eye doctors and their eye drops irritated my eyes even more. But to my surprise, your Bright Eye drops alleviated both the dryness and the strain for which I am very grateful.

"after just seven weeks of using them the white film has cleared from her eyes"
Mary & Chanahhei - Middlesex
I just had to write to thank you for your bright eye drops. My mother, Chanahhei, is 79 years old and has suffered with cataracts now for many years. The Doctors wanted her to go into hospital for surgery but I don't trust them and hospitals much after our previous experiences with them so she hadn't gone. Then a couple of months ago a good friend of mine told me about your eye drops and that they could help her without the need for surgery. This sounded too good to be true but I decided to get them for her as I feel anything is preferable to surgery and she is my mum and I'll do anything for her.
I started putting the drops into her eyes for her every day, once in the morning, once in the afternoon, and then again in the evening.
Already, after just seven weeks of using them the white film has cleared from her eyes and there is now just a very small patch left in the corners. She can now see my finger again which she couldn't before and everyday like clockwork she reminds me that it's time for her drops. Thank you so much for such a wonderful product and I am now telling everyone about them and how great they are.
Our very best wishes to you and your company.
"the blurred vision at night, when I am tired, is gone"
Helga from Germany
My eyes: I take Ethos Endymion *Bright Eyes* Eye-Drops since some weeks now. And the first impression was correct - they DO a lot of good. Not only can I ride my bicycle without sun-glasses again, the blurred vision at night, when I am tired, is gone. And lately I notice, when I walk around and accidentally reach up, that I do NOT WEAR my glasses !
"in just two days, this has completely cleared"
Paul Eastaugh - Letchworth
I just had to write to let you know what an amazing product you have in Bright Eyes.
As you know, I came to see you on Thursday so I could collect a box of Bright Eyes and get started using them straight away. To say the least I have been absolutely amazed by their benefits and the speed of the results I have seen. For many years I have suffered with 'gunk' in my eyes, especially upon waking in the morning. Already, in just two days, this has completely cleared and, as I mentioned above, I am absolutely amazed! Many thanks for such an amazing product and I wish you continuing success with your business.
Eye diseases such as cataracts can be treated with cataract eyes drops in the comfort of your own home. Research has found that smoking, drinking, diet; lifestyle and the introduction of electronic devices have all impacted the age of those affected. This means that the threat of developing cataracts is even bigger and therefore we must take greater care to prevent it. Ethos Bright eyes Cataract eye drops is our bestselling product worldwide improving your vision and eyesight daily. Cataracts will directly affect over quarter of the world's population over their lifetime. Many people suffer from this common problem which involves the eyes lens becoming clouded which results in eventually loss of eye sight is addressed at the very early stages. The disease, previously thought to only affect older people and be a result of ageing, is not starting to affect many people in younger generations due to social changes.

Over the years our company Ethos Schweitz LLC based in Switzerland have helped many thousands of people to treat, dissolve and prevent cataracts, enabling the avoidance of expensive and invasive surgery. Genuine Bright Eyes Cataract Drops contain 1% of the miracle agent N-Acetyl-L-Carnosine, as well as other lubricants and vitamins to treat your eyes affordably in the comfort of your own home. As the natural ageing process progresses the possibility of developing Cataracts, Glaucoma or AMD in our sight increases, but can be cured and prevented with a simple course of eye drops.

Eyesight with good vision is one of the most important senses we have to enable us to enjoy a good quality of life, but, unfortumately can be very much taken for granted. The cost of cataract surgery and eye health care continues to rise in the private health sector. The restriction of the budgets of the NHS along with other Worldwide and EU government medical associations on cataract operations are increasing to reduce health bill deficits, therefore waiting lists for surgery become longer. Ethosheaven can supply you with a healthy natural alternative eye drop solution for cataracts which can be the answer to your eye care worries and concerns. We give 100% customer service and endeavour to answer all your questions and concerns you may have to improve and enhance your vision.