Ethos Bright Eyes Cataract Drops
Watch the Richard and Judy Show feature here.
Ethos Heaven Endymion Bright Eyes Drops for Cataracts have been our most popular product from the very start. The Richard and Judy Show feature and subsequent reviews have resulted in our success as the best natural alternative to cataract surgery which although routine these days is still slightly invasive and worrying. How much better is it to solve your problems with easy to apply eye drops?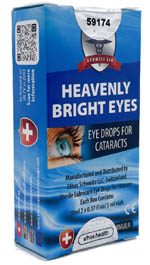 Order Bright Eyes NAC Cataract Drops
Ethos Endymion Bright Eyes is the most advanced eye formulation product ever developed and contains lubricants, vitamins and N-Acetyl-Carnosine which is also a Powerful Super Antioxidant.
More Information
Ethos Bright Eyes NAC Drops will dissolve cataracts without the need for any invasive cataracts surgery.
Also for treating the majority of all other eye conditions including Glaucoma, Age Related Macular Degeneration (AMD), Floaters and Dry Eye Syndrome.
Bright Eyes is 100% hypoallergenic and 100% Sterile.

Bright Eyes is free of animal ingredients and may be freely used by vegetarians.

Bright Eyes is safe and suitable for use on pets and other animals.

Bright Eyes is safe for use by diabetics and is compatible with all antidiabetic drugs.

Bright Eyes drops may be safely used by contact lens wearers (both hard and soft).

Bright Eyes is safe for use by people with glaucoma.

Bright Eyes is safe for use by people with cataracts.
This is the comprehensive list of eye conditions Ethos Bright Eyes NAC Eye Drops will address:
Cataracts
Intraocular Pressure Associated With Glaucoma
Age-Related Macular Degeneration (AMD)
Vitreous Opacities and Lesions
Computer Vision Syndrome
Contact Lens Disorders
Ocular Inflammation
Dry Eye Syndrome
Corneal Disorders
Chronic Eye Strain
Retinal disease
Blurred vision
Presbyopia
Floaters
Bright Eyes Ingredients
Antioxidants: N-Acetyl-Carnosine (NAC) - 1.0%
Glycerin (lubricant) - 1.0%
Carboxymethylcellulose sodium (lubricant) - 0.3%
Vitamin A
Vitamin E
Buffered with borates and potassium bicarbonate and as a preservative.
Sterile water (ophthalmic grade isotonic solution, pH 6.3 to 6.5).
Purified benzyl alcohol.

Common Symptoms of Cataracts include:-

Eyes become cloudy fuzzy, foggy, or filmy vision
Colors do not seem as bright and clear
Driving at night when oncoming headlights seem brighter
The sun and daylight are making your eyes feel uncomfortable than normal
More visits to the opticians for upgraded eyeglass prescriptions
Double & Blurred vision
Bumping into furniture and other visual accidents the may occur around the house
You may not be able to recognize friends and family at a distance
Better near vision (temporarily in farsighted people only)
Note: These symptoms also can be signs of other eye problems.
Recommended Usage:
- Ethos Bright Eyes Cataract Drops for Humans
The suggested use of Bright Eyes NAC Ethos Eye Drops is to apply 1 to 2 drops in each eye as eye maintenance every day. Those with any kind of eye problems such as cataracts, Glaucoma & AMD may want to apply 1 drop several times hourly. Do not exceed over 7-8 Drops in one eye a day.
Each genuine ethos bright eyes 5ml bottle should last 30 days at two drops per day or 15 days at four drops per day. A box contains 2 x 5ml sterile sealed proof bottles; therefore each box can last between 30 and 60 days which represents excellent value for money.
Unopened bottles should be stored in the dark in the refrigerator out of reach of children. It is also recommended that you take 2 -3 grams of Ethos Endymion Carnosine Supplement in powder form daily.
Health and Diet Advice for those with Cataracts
Recent research suggests that there are a number of lifestyle changes we can make to help minimise our risk of developing cataracts. Drinking alcohol,smoking and lack of exercise have both been linked to the development of cataracts, therefore Ethos Heaven strongly recommend reducing your alcohol intake, stopping smoking and daily exercise. Researchers are now also looking into the impact of a high fat diet as this is believed to have an impact on your chances of developing cataracts.
Ethos Endymion Bright Eyes drops are non-invasive and easy to use. They have been proven to reduce, clear and dissolve existing cataracts. While using Ethos Eye Drops it is also important to get plenty of antioxidants from fresh fruits and vegetables. Always wear sunglasses and a hat to protect your eyes from ultraviolet light.
As our eyes age, by eating foods that are rich in antioxidants we may lower the risk of cataracts and other eye disorders, according to new Swedish analysis. Research suggests nutrients work well together with Ethos Eye drops and will help protect and treat cataracts, glaucoma and AMD.
It is also advisable to rest your eyes during the day and protect them from the UV rays of the sun. The use of electronic devices puts a greater strain on our eyes which in turn can lead to the development of eye problems. By reducing our time on these devices we are greatly increasing the chance that our eyes will stay healthy and problem free. Taking this advice whilst using our eye drops for cataracts may help you have healthier eyes and a much greater quality of life.
Diet advice for those with Cataracts
Taking control of your eye health, life style and diet is the whole purpose to improve your eye sight and prevent further loss of vision due to cataracts.
Here is a comprensive list of food for we highly recommend for Ethos Natural Health
Beta Carotene: - Food Source - Carrots, Kale, Sweet potatoes, Spinach, Squash, Blueberries
Selenium: - Food Source - Sea food (Shrimp, Crab, Salmon) Brazil nut, Brown Rice
Omega 3 Fatty Acid: - Food Source - Cold Water Fish (Salmon,Mackeral,Herring) Fish oil supplements, Ground Flax seed, Walnuts
Lutein and Zeaxanthin: - Food Source - Spinach, Kale, Collard Greens, Squash
Zinc: - Food Source - Oysters, Beef, Turkey (Dark Meat) Crab
Vitamin A: - Food Source - Beef, Chicken, Liver, Egg, Milk, Carrot, Green Vegetables
Vitamin C: - Food Source - Sweet Peppers (red or green) Kale, Strawberries, Broccoli, Oranges
Vitamin E: - Food Source - Almonds, Sunflower Seeds, Hazelnuts
Vitamin D: - Food Source - Salmon, Sardines, Mackerel, Milk
Specification Sheet
Mouseover for larger view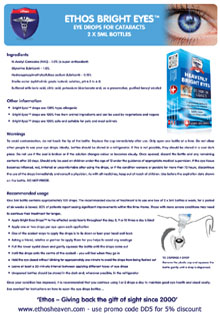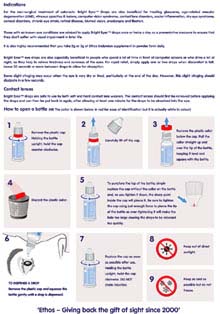 Reviews
Malcolm Evans, Plymouth - May 2019
I've never had good eyesight and as I've got older my vision has become worse. When I was diagnosed with a cataract in my left eye, I faced a choice; surgery or finding something that might at least slow its development. I did some research online and found Ethos and its Bright Eyes product which seemed worth a try. I began a course of drops which are easy and quick to apply and after a few days, I noticed an improvement. I was still within a potential surgery programme and returned to see my optician again for up to date comments. She smiled after my examination and said she thought that the development of my cataract had been arrested. I'm not suggesting I have found a miracle cure, but I am far more optimistic about the future with the help of Bright Eyes.
Juan Mendes, Alicante - March 2019
I have never liked to go to a doctor. When I thought I needed glasses I just tried on some cheap ones until I found some that I saw better out of. I had not understood that my eyes had become worse because I was starting to get cataracts in both of my eyes. Within four weeks my eyes were not as good as when I bought the glasses, so I went to see a professional about eyes. I was tested and told that my problem was cataracts which would make my eyes worse in the near future. I wanted to think about this before I agreed to having surgery. I looked on the websites about eyes and the things that were possible to stop surgery. When I found Ethos Heaven, I liked that it was simple to understand about eye drops that might help me. I bought some and started to put in the drops. I am very happy because my eyes have started to be better. I mean to take the drops in the future, and I will go for eye testing again in a few weeks. Thanks to Ethos Heaven and Bright Eyes.
Jon Lancaster, LA, California - February 2019
I had forgotten what t was like to have clear vision. My vision had been getting worse by the month, and I was not seeing color as vividly as I once did. When I found Ethos Heaven Bright Eyes online, I thought they were worth a try. How delighted I am that I did. They have certainly given my eyes a boost, day and night. Quick and easy to apply, I would recommend them to everyone who is worried about their eyesight.
Mary English, Dublin - December 2018
I have spent so much time in front of a computer screen in recent years that I suppose I should have realised there would be a price to pay. I was beginning to find my eyes tiring as the day wore on, and by the evening they were definitely tired. At first I thought there would be no answer unless I cut down the time I was working but then I found Ethos Heaven and their Bright Eyes product has certainly given me a boost that I didn't expect. Thanks to everyone at Ethos Heaven.
Pierre Dupont, Dieppe - November 2018
I had problems with my eyes since five years. I was worrying that nothing could be done as I was getting older. I was desperate for help and was prepared to try new things. For me, new things included eyedrops from Ethos Heaven and to my delight, their Bright Eyes product seems to be the answer I was seeking. I am not worried now even though I know that I will be wearing glasses for the rest of my life. I think they look quite sexy actually.
Robert Arthurs, Cape Town - May 2018
When I found the Ethos Heaven website, I wondered whether I could safely buy online and get the Bright Eyes product delivered to me safely. I need not have worried. They arrived in a matter of days after I placed the order and I started using the eye drops two months ago. The improvement in my vision has pleased me and I intend to place a regular order. They cost a small amount of rand when I think how valuable my vision is to me.
Rose Beck, Yeovil - May 2018
I have never liked hospitals and the thought of actually having surgery frightened me when my optician said he thought that I was showing the first signs of a cataract in my left eye. I left his practice in a panic and frantically searched online to see what alternatives I might have to surgery. I found Ethos Heaven and thought I would give Bright Eyes a try. I did a course of treatment and went back to the optician because I thought my vision was getting better. He examined me and confirmed what I thought. No surgery for me.
Lucy Lamb, Australia - March 2018
My eye care professional told me I needed to have cataract surgery on my right eye. I was having much difficulty reading, but at the time, I just didn't see how I could take even a week to take care of this situation. I decided to try Ethos Bright eye that's came recommended by a friend who swears by it, I have to admit I was a bit sceptical. I then ordered some drop and start using them. I couldn't believe I was seeing more clearly within hours. I continued using them, taking breaks on the week-ends, and my eyes just kept getting better! I've been near-sighted for years, was having difficulty with night vision, floaters, and then the cataracts. I recently went in to get new glasses, and my doctor was "blown away" when he saw the improvement in my vision! I am no longer a candidate for cataract surgery, and just wanted to let you know! I am still required to wear my glasses for driving, but I do not need them for reading, working at the computer, or other close vision at this time.

I was told the animals can even use Ethos Bright eye. I told my friend about it and the wonders it done for me as her Boxer dog had a glared look in it's eyes and was constantly scratching them. She gave it a go and to her surprise Sally (the dog) is as good as new. This product should have been invented years ago.
Paul Lynch, London - November 2017
Not only have I been a bookworm all my life, but working on a computer six days a week can cause some wear and tear on one's eyes. And because I will be driving from London to Scotland soon, I decided to make an appointment for an eye exam. At age 68, I wanted to check if my slight cataract developing had stop growing after 6 months of being diagnosed whilst using Bright eyes

After a careful check-up, can you imagine my reaction when the optometrist said: "Your eyes have actually improved,

His smiling demeanour suddenly turned serious. He seemed concerned about something. he said. "I'm impressed. You obviously are blessed with good genes." "Maybe," I replied, "But I've being using Ethos Bright eye eye drops for the past year and a half." He was in total shock when I told him about this product. You know you're doing something good when a professional is left gobsmacked with the condition of me eyes due to a product he never heard of. He is now recommending this to his clients.
Alan Smith, Ireland - August 2017
I have been taking these amazing eye drops for about 2 weeks. I am seeing well. My cataracts are no longer cloudy, but still there. My night driving has improved, I can see at least 50% better. Colours, wow, colours are so vibrant. My eyes don't get as tired as quickly as they used to. I have told a few of my friends about it and they are accessing your website.

I can't wait to continue improving day-by-day. I am nothaving cataract surgery because of my age and underlying health problems.?Thank you so much for giving me an option other than surgery. I was told that I would have to pay 1500euro per eye for surgery but there was a risk . From now on I will only take Ethos eye drops each and everyday until I am happy with the results. My entire body mind and soul is feeling better. I can hardly wait to get my eyesight to improve more without these bloody cataracts. Truly am looking forward to the future. I know that I will feel better each day. Thank you so much Ethos Team with your support and amazing product.
Brian Masters, Colchester UK Oct 2016
Won't go into too much detail but I've been having problems with my eyes for years, got cataracts a few years ago and I've tried everything. Tried all the home remedies and all the stuff from the doctor but nothing really did anything. Found these drops and after the first month they improved a lot. Decided to do another course and they were a lot better. I know my eyes can never fully recover from cataracts but they are now a lot better than I ever thought they could be.
David Long, Surrey UK Oct 2016
Must be good cos I can see again! Haha but really thanks guys its worked a treat. My optician tried to sell me an operation but I found this much cheaper and no invasive surgery.
Amy, Canada
Took a while for my drops to really make a difference however slowly but surely my eye is getting better. I didn't realise until I compared pictures a month apart how much of a difference these eye drops were making and I'm hoping if I continue to use them it will improve even more.
Sarah, Manchester UK
So impressed, worked really well. I had a cataract starting in my right eye and its not far from gone. Only used the drops for 2 months- I would recommend to anyone!
Emily, Canada
I bought these for my mom who is 78 years old, she said her eyes were getting weird like cloudy and couldn't see good. The doctor said it was a cataract and our friend told us about these bright eyes cataract drops. We got them and after about a month she said there was a big improvement so we are going to keep going with them.
Daisy Amelia Brewer, East Sussex UK (January 2016)
I was diagnosed with cataracts at a routine eye test approximately 12 years ago, it may have been longer ago. At this time I happened to see Richard and Judy recommending Ethos Eye Drops, so I made contact and used them regularly around six/seven times a a day and during the night. I found them to be very soothing.

A few weeks ago I had further eye trouble, very sore and bloodshot eyes, my doctor diagnosed severe blepharitis, but to my joy he could see no trace of cataracts. I was given wipes and anti-biotic eye drops. I followed his instructions for 3 months, also using a mixture of tea tree cream and honey on my eyelids, sticky but very effective, this followed advice from fellow sufferers. I was told blepharitis is a chronic disease of the eyes with no cure, however so far I am clear of it. I continue to use ethos drops and the honey and tea tree mixture, this can be easily disguised by using the magical eyeshadow supplied for blepharitis sufferers.

I have recommended Ethosheaven Bright Eyes eye drops to many people, I will never be without them.
H. Long from China (October 2014)
About one year ago, I've bought some of Ethos Bright Eyes Drops for my mother, because since 2002 she had been suffering from glaucoma that followed also with cataract and syndrome of high intraocular pressure, due to that fact she suffered her first operation in 2002. Even so her eyes still got worse in the following years, some times after waking up she felt there was something like curtain stayed in her eye and made her vision blurred, she even lost her vision of right eye in 2012.

My mother told me, after using your eyes drops, about 5-6 times everyday, her left eye is sharper and clearer than before, and she felt also comfortable every time after using drops. Although the syndrome of acute high intraocular pressure occurring again in june 2014,her doctor must perform another operation for her left eye. But my mother said that that eyes drops worked very well during the whole healing process and provided her a lot of comfort. Up to now her vision of left eye is raising gradually from 0.1 to 0.3 and we hope it would be even better. So we appreciate it very much and we hope that your excellent products could help more people in the future.
Carmen Davis - Kitsap County USA (May 2014)
Prior to using BRIGHT EYES DROPS FOR CATARACTS, I saw hazy translucent-like white spots going across my line of vision and these spots seemed to get bigger with time. I finally went to see an ophthalmologist and he tried to convince me to have these cataracts surgically removed. That would have cost my insurance company $5000 per eye.

I did not like the idea of invasive surgery, so I did a thorough search of the internet and found your company:

REFERENCE MY FIRST ORDER DATED February 3 2013:

Upon receiving my order, I immediately began applying 2 drops of BRIGHT EYES in each eye 2-3 times every day. Each time I would apply these drops, I would keep my eyes closed for a couple minutes afterwards. It was about the 4th week, I believe, that the cataracts gradually started to disappear from my line of vision. Even after finishing up with the drops, the cataracts continued to fade and it was by the end of the 2nd month that I noticed there was no trace of cataracts.

It was just in the last few weeks of this month (May 2014), I started to notice a cataract in its early stages in each eye. So that was when I decided to order more of your eye drops.

Carmen Davis - USA - 31ST August 2014
UPDATE.
I should have sent this 6 weeks ago:
The BRIGHT EYES DROPS FOR CATARACTS have totally cleared up the beginnings of a cataract in both eyes. Also, there was a side benefit. I was suffering from dry eyes and eye strain due to overuse of the computer. I went to 2 eye doctors and their eye drops irritated my eyes even more. But to my surprise, your Bright Eye drops alleviated both the dryness and the strain for which I am very grateful.

We can take vision for granted but we shouldn't. Eyesight is utterly invaluable, one of the essential senses we have. Throughout the world people aged 65 or older have regularly been shown to have some degree of visual impairment as a result of cataracts; they seem to have simply become part of getting old. Cataracts are not just a factor of age however. They can develop at any age which is why it is important to have regular eye tests from a professional ophthalmologist whether you have concerns or not.

But what is a cataract?
Cataracts form in the lens of the eye, the black circle in the centre of the eye. If that lens begins to look misty, you are likely to be in trouble. That "mist" prevents light getting to the back of the eye causing blurry and cloudy vision. Before Ethos developed Bright Eyes Cataract Drops, surgery was seen as the only answer for treating cataracts.

The factors that can result in the formation of cataracts include family history, diabetes or a previous eye injury. These days, it is felt that modern lifestyle is also playing a part. That is not only a result of smoking and poor diet but consumption of alcohol and even our increasing use of mobile devices. It is the latter that has seen increasing problems among the younger generations.

Since Bright Eyes Cataract Drops were developed by The Ethos Group all those years ago. Since then these miracle eye drops have been used to prevent, treat, dissolve and cure thousands of eyes with cataracts. This has meant that thousands of people have not had to undergo surgery. The prospect of surgery can very daunting, never mind the possible expense. There is little chance of waiting lists being reduced anywhere in the world despite what governments say; the financial pressure on national budgets is immense. Private treatment is increasingly expensive as well. Bright Eyes Cataract Drops can be self-administered at home.

Our company Ethos Schweitz LLC is based in Switzerland. They have developed a healthy, natural alternative to surgery which can also be used to prevent the development of cataracts in the first place. Containing 1% of the miracle agent N-Acetyl-L-Carnosine (NAC), powerful antioxidants, lubricants and vitamins, Ethos NAC Endymion Bright Eyes Cataract Drops have been scientifically proven to help improve vision on a daily basis.

In 2003 The Richard and Judy Show in the UK featured Bright Eyes Cataract Drops. They rigorously tested the Drops over a 6-week trial and the results were astounding. After just 6 weeks users' eyesight had improved and any previous early signs of the development of cataracts had gone. Subsequently, Ethos Heaven NAC Bright Eyes Cataract Drops became the top selling natural alternative to surgery for cataracts worldwide.

Ethos Heaven guarantees personal attention and service.