Ethos L-Carnosine Powder
Carnosine is a protein that is naturally produced in the body. It is concentrated in muscles when they are working and it is also found in the heart, brain and many other vital organs in the body. Unfortunately although present naturally in our bodies, Carnosine levels decrease as we age which leaves us vulnerable to illness and the effects of ageing.

Studies have shown that Carnosine slows down the ageing process. It also prevents diabetes and can treat any complications that arise from diabetes such as nerve damage and kidney disorders. It is also used to successfully treat one of the first signs of ageing, eye disorders such as cataracts. This strong anti-oxidant has a dramatic affect on a wide range of health conditions.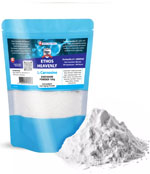 Order Ethos L-Carnosine Powder
Ethos L-Carnosine Powder is a world leader in its field in the fight against aging for those amongst us who want to grow older slower and more gracefully, whist also helping to protect and treat our body against degenerative diseases.
More Information
The Benefits of Taking Endymion L-Carnosine

L-Carnosine helps the following illnesses and conditions
Reduces muscle ageing and muscle disorders
Increases Sexual Potency & Erections
Cataracts
Diabetes
Cardiovascular diseases such as heart attacks and strokes
Neurological and psychiatric disorders such as epilepsy and schizophrenia
Alzheimer's disease
Parkinson's disease
Autistic Spectrum Disorders
Other health benefits include
Anti-ageing
Rejuvenates the skin
Lowers blood pressure
Helps to alleviate asthma symptoms
Has high anti-oxidant qualities
Reduces occurrence of peptic ulcers
Converts body fat into energy
Improves immune function
Improves anaerobic athletic performance and sports endurance

Endymion Powder can be taken safely in conjunction with Bright Eyes Cataract Eye Drops for humans and pets to enhance the effects, or for those who are unable to use the eye drops.

This previously little known super nutrient is the world leader in its field in the fight against ageing for those people who want to grow old more slowly and more gracefully whilst also helping to protect our bodies against degenerative diseases.

Directions for Use
For best results the recommended daily intake of Ethos Endymion Powder is 1 gram per day. Half a gram in the morning followed by half gram in the evening, preferably at least 40 minutes before meals. Alternatively, 1 gram can be added to a bottle/large glass of mineral water and sipped regularly throughout the day.
Reviews
Robert Marshall, Seattle
I don't no much about health but I no that as I am getting older I can't expect to do all the things I was doing when I was young. But I see friends of the same age who seem to have more energy than me. I do not no the reason. One day a nurse friend of mine explained about carnosine which is a protein that bodies create naturally but can't do so much as we get older. I asked her about any suppliment that I could take to replace it and she said her aunt had been taking something and she would check on the name. She rang me the next day and said it was from Ethos Heaven. I contacted them and they suggested I try carnosine powder. I am happy to say I have and I seem to have much more energy which was all I was looking for.
Janet Wise, Genoa
I have lived in Italy for many years now and like to think that I am fairly healthy for my age. The Mediterranean diet is full of fresh fruit and vegetables but I perhaps eat too much pasta and ice cream. Recently, I began to feel my age. It was just a few small things but they added up to a worry. I thought I got all the nutrition I needed in my food but decided to look at supplements to see if I could give myself a boost and completely by accident I came across an article on carnosine and how we do not produce as much as we get older. I decided to try it and bought a product from Ethos Heaven which I have been taking for six weeks now. It certainly seems to have helped me because there are no aches and pains anymore and I feel very healthy again.
Natalie, New Zealand
I've always been big on antioxidants and super foods as a way of keeping my body healthy. When I stumbled across this it seemed perfect for me and is easier and quicker than cooking and eating the foods.
Lena, Australia
Great easy way to get what your body needs. I put mine in my morning smoothies. Feeling a lot more energised since I started with it.
Harry, Ireland
Ethos carnosine powder, great product for a general boost. I used to take multivitamins daily for a boost but after a few years they seemed to plateau and I stopped feeling the benefits. I came across this when I was looking to switch to something else and I just feel like it's really good for my overall health and helps me stay in a positive mind set.
Deidre, Glasgow
Since im in my sixties my body has slow down a lot, everything is hard work for me now. My daughter found carnosine powder on the computer and I started taking it everyday. It seems to help my body and I can move easier and less stiffly.
Louisa, London UK
I had never heard of cornosine powder until I found it on the ethos website. I was interested so bought some and since using my skin looks more refreshed and im more energized and alert.
Jack, AUS
I have been looking for something to supplement into my diet because I don't eat red meat and need to make sure my body gets what it needs. This has worked a treat and I plan to keep using it.
Rhea, US
Suffering from eczema, my little girl has had a really tough time the last few years. I am always on the look out for new products that could help her so when I found carnosine powder I bought it immediately. Of course she used creams daily but after starting to use this the new skin under the dead skin is coming through a lot quicker and healthier which has made a big difference.
Erin Ashley - Brisbane - Oct 2012
I have been taking Ethos Carnosine for about two months. I have arthritis in both legs. The pain has gone, my muscles feel stronger and I am steadier on my feet. It's truly amazing stuff. I am very grateful to the ethos support team for their great advice in recommending it. I now recommend to all my friends.
Mehmet J Ahmet - London - Dec 2013
When I am not taking Carnosine I find it hard to concentrate and generally weaker. Endymion Carnosine has helped to improve the quality of my life, especially in stressful times at work.
Elsie Blackwater - Brighton - Dec 2013
Ethos products give me more energy and healthier skin as I age. My husband and myself take it on a daily basis. We are able to go on long walks and play with the grandchildren without getting to tired.
Name withheld - Jan 2014
As a recovering alcoholic ethos carnosine powder gives me a nice energy lift and puts me in a better mood. My sleeping pattern is back to normal
Mark Moore - USA - Jan 2014
This stuff certainly gives you more stamina, I use this first in the morning and last thing at night. I feel 100% better than I did.
What is L-Carnosine
Ethos Schweitz LLC have created a natural product which contains the active ingredient L-Carnosine. The good news is that you can now replace Carnosine naturally with a daily supplementation of Ethos Endymion Carnosine Powder, which is the very purest form of L-Carnosine available.

Ethos Endymion Powder (100% L-Carnosine) has become one of the most important anti-ageing and brainpower supplements on the market. This worldwide recognised amazing product starts working towards a healthy body and healthy cells as soon as you start taking it. It works by providing food nourishment to the brain and body to slow down the ageing process.

You can now replace Carnosine naturally with a daily intake of the very purest form of L-Carnosine from Ethos. This super antioxidant was voted Number 2 in the top ten foods to boost brain power in The Telegraph in May 2011 and on BBC Health Online.

Other Ethos Heaven Products