Ethos Heavenly Eyes Digital Vision Syndrome Eye Drops
Ethos Eye Drops for Digital Vision Syndrome (DVS) or more commonly known as Computer Vision Syndrome (CVS) has been developed to address a problem that has emerged in recent years. In the digital age, everyone of all ages is putting more strain on their eyes by using smart phones, computers and gaming devices.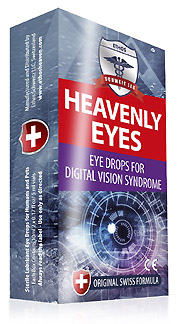 Order Digital Vision Syndrome Ethos Eye Drops
Heavenly Eyes for DVS/CVS is an advanced eye formulation product for the digital age eye problem, containing lubricants, vitamins and N-Acetyl-Carnosine which also acts as a powerful super antioxidant.
More Information
Sterile Lubricant Eye Drops for Digital Vision Syndrome & Computer Vision Syndrome.

Sustain your work and gaming performance without damaging your eyes when using a PC or Xbox/PlayStation over long periods of time. Regenerate your stressed eyes with cooling eye drops to increase your concentration and the ability to perform.

Ethos Heavenly Eye Drops is an eye solution lubricant for instant relief for digital eye strain and computer vision syndrome from computer screens, phones, gaming and other devices that may cause eye damage.

DVS ethos eye drops is 100% hypoallergenic and 100% Sterile
Free of animal ingredients and may be freely used by vegetarians
Heavenly Eyes drops may be safely used by contact lens wearers (both hard and soft)
Safe for use for 13 Years old and above
Safe for use by people with Cataracts and Glaucoma
Supplement Facts
N-Acetyl-Carnosine (NAC) - 0.5%
Glycerin (lubricant) - 1.0%
Hydroxypropyl methylcellulose - 0.15%
Aqua
Methylcellulose
Vitamin B
Sterile Water & Boric Acid
Directions
Administer 1 or 2 drops in the affected eye(s) as needed
The suggested use of Ethos DVS Eye Drops is to apply 1 to 2 drops in each eye as eye maintenance every day. Do not exceed over 7-8 Drops in one eye a day.
Each Box Contains 10ml 2 x 0.17 fl oz/ 5 ml vials
Always read the instructions - Use only as directed
Unopened bottles should be stored in the dark in the refrigerator out of reach of children
Manufactured and Distributed by Ethos Schweitz LLC, Switzerland
Those who work with computers or consistently on their phones or gaming for long hours are straining their eyes more than others in society. Regular eye tests will identify the extent of any damage that looking at a screen for long periods is doing. Heavenly Eyes for DVS can help prevent such strains as well as other eye complaints such as dry eye, blurred vision, headaches and redness of the eye.

The Covid-19 pandemic has led to more people working from home and that has added to the problem. Offices are specifically designed to create a proper working environment in line with the UK Health and Safety at Work Act, 1974. That includes suitable computer screens and proper lighting for the whole working day. Your home may be lacking in such detail.

Even the mildest of eye problems is a concern. Vision is an essential part of quality of life and anything that might harm your vision is a matter of great concern.

As you can see, Heavenly Eyes for DVS is a natural product containing ingredients that will boost the health of your eyes. Get regular testing, not only if you have been working from home for a period. You may be spending plenty of time on your mobile phone, texting friends, playing video games, and enjoying all the things that the internet has opened on mobile phones and computers.

You should have your eyesight checked regularly anyway, whether you have a problem or not. Likewise, Ethos Heavenly Eyes is a great natural product to use regularly to keep your eyes clean and in a good condition.

Ingredients of Heavenly Eyes for DVS
0.5% N-Acetyl Carnosine is a naturally occurring antioxidant
Glycerin is a lubricant
Hydroxypropil methylcellulose is another lubricant with a variety of other healthy properties
Aqua, Vitamin B, Sterile Water and Boric Acid
This NEW Ethos Heavenly Eyes product comes from an internationally famous Swiss Company, Ethos Schweitz LLC. It has many years' experience in manufacturing such eye products. Heavenly Eyes Eye Drops for DVS are already making quite an impact on the international market. This great success, in a very competitive market, confirms that consumers have become increasingly aware of the effectiveness of quality eyedrops and the solutions they provide.