My Dog has Cataracts HELP
10-09-2018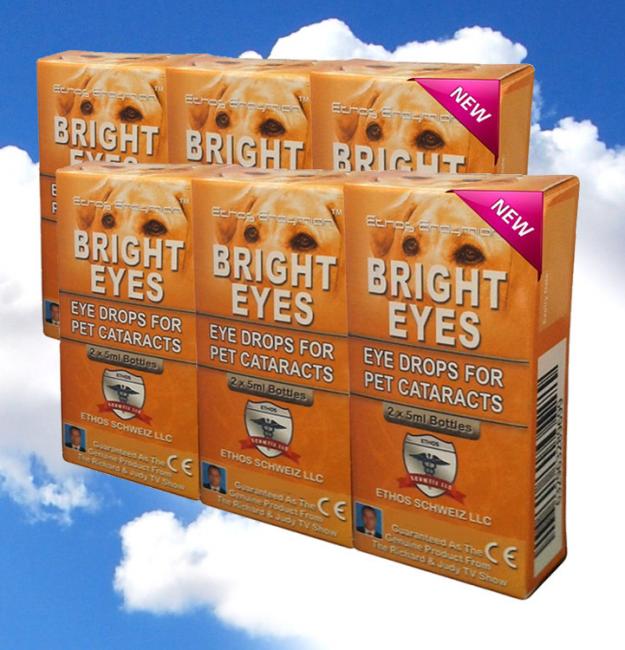 It is recommend using between 6 to 8 Ethos NAC Bright Eyes Drops for Pets daily, which should approx use one box 2 x 5ml every 10 days for both eyes. The drops should be applied hourly and the number of times of daily application depends on the severity of your pet's condition. Those with more severe conditions may need to complete another course of 6 - 8 week treatment plan - 6 boxes. This is the time period for the cataracts to shrink/dissolve or at minimum eye site improvement.

If your pet or animal have more mature cataracts it could take slightly longer and more boxes, equally if the cataracts are not so severe it could take less.

Our statistics and feedback show that 82% of customers see significant improvement in their pets within the first 2 to 3 weeks.

The age, breed and other health conditions will play a factor on your dogs and pets well-being and how well the eye drops work. Exercise, maintaining a healthy weight and protecting animals eyes from the harmful UV rays of the Sun, also keep their eyes away from dust and household chemicals.

There are also many simple, fresh and wholesome food items that dogs can thrive on with eye disorders and using ethos pet eye drops, Animal protein such as rice, chicken, turkey, duck, lamb, goat, rabbit, pork, beef, fish and venison, should be an integral part of their meals mixed with Kale or Carrots, sweet potatoes, blueberries and yogurt mixed in wet food

The Cataract eye drops for pets should be kept somewhere cool and out of direct sunlight.
After a noticeable improvement in your pet's condition it is advised to continue the use of the drops to achieve and too maintain maximum eye health and visual accuracy by applying one or two drops daily.

Even if your pet seems to have fully recovered and have no more problems you should still keep applying one or two drops a day to prevent and visual impairment returning or developing in the future.