Ethos Elan Vital For Pets
At Ethos Heaven we understand that our pets are part of the family and therefore we want them to be as fit and healthy as possible. But as our four-legged friends age they become more prone to illness and debilitating diseases. It's a known fact they have much a shorter lifespan than humans. But there is now a way that you can prolong your pet's life and help them to fight diseases and illnesses much more efficiently.

Ethos Elan Vital for Pets is the most advanced health supplement currently on the market. It is scientifically tested by vets and proven to actually rejuvenate cells to promote good health, wellness and longevity of your pet's life. Simply dissolved in water, it's tasteless, colourless and odourless and with a healthy diet you will soon start noticing the difference.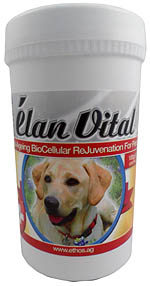 Ethos Elan Vital For Pets
Ethos Elan Vital Anti-Ageing BioCellular Rejuvenation
More Information
What is Ethos Elan Vital for Pets Ignotine?
Ignotine is a chemical which occurs naturally in our bodies and is made up of amino acids known scientifically as N-beta-alanyl-histidine. Our nerve cells and muscle cells contain lots of Ignotine. We and our pets are born with high levels of Ignotine in our bodies but unfortunately it decreases with age. The good news is that you can now replenish your pet's supplies of Ignotine naturally with a daily supplement of Ethos Elan Vital for Pets which has been created by Ethos Schweiz LLC and is the very purest form of Ignotine available containing 99.9%. When reintroduced into our bodies, it has been proven that ignotine rejuvenates cells and works as an anti-ageing agent.

Below is a list of just some of the advantages of giving Ethos Elan Vital to your pet:-
Wound Healing
Brain Protection
Improves your pet's calcium levels
Cellular DNA Protection
Lowers Blood Pressure
Improves your pet's immune system
Converts body fat into energy
Protection of skin and fur
Affective for good eye wellbeing when taken with Ethos Pets eye drops
Recommended Usage and Dosage:-
For best results it is recommended the daily intake of Ethos Elan Vital for Pets is one teaspoon a day. Ethos Heaven suggest giving half a teaspoon in the mornings and half a teaspoon in the evenings, in a small amount of wet food. Alternatively, one teaspoon can be added to a bowl of water for your pet to drink throughout the day. Unfortunately with this method there may be some wastage. Ethos Elan vital is 100% safe and 100% hypoallergenic - it is naturally occurring in many foods and in the body itself.
Ethos Elan Vital for Pets 2020 Reviews from Dog Lovers
My Labrador Angel is slowing down. That is to be expected because she is approaching 12 years old. She gets regular checks at the vets and he sees nothing wrong with her, just that touch of old age. I decided to add a supplement to her wet food each day. Elan Vital is its name, and Angel seems to have responded positively since I began to give it, so I'll continue
Happy Dog Owner, Peebles
I rarely write reviews on anything and that includes hotels and restaurants but I thought I would make an exception after I saw the boost that Ethos Elan Vital seems to have given my poodle after undergoing an operation. She is back to her usual lively self and I put that down in part to Ethos. Many thanks, guys!
Howie, Durham City
Thanks Ethos Heaven. I have been giving Rex Elan Vital for 3 months now and he is certainly brighter and stronger than he was before I bought your wonderful supplement.
Theresa, Taunton
Domingo - Spain
I give my dog Elan Vital everyday just to make sure she's healthy. She has no problems or anything but I just like to give her something to boost her health and has reduced a cataract in one eye.
Rory - Canada
My dog is 9 years old and starting is aging. Over the last few years she has really slowed down, sometimes struggles walked long distances and just seems old. I wanted to help her and came across Ethos products for pets online. It sounded great for boosting health especially heart kidney and brain cells. She's been taking it for 6 months and it seems to have stopped her deteriorating. I wouldn't say that she has improved as such but she's definitely hasn't gotten any worse whereas before she was deteriorating quickly.
Yvonne - Halifax, UK
My cat got a tumour which took a while to be diagnosed and removed. Luckily there was no complications when it was removed and the operation went well. However a few years before when she had a different operation, her recovery was quite traumatic for her. The wounds took a long time to heal and got slightly infected which meant she was put on antibiotics, it ended up taking an extra month for her to recovery fully and she was left with a large which she often tries to scratch, I think because the hair never grew back. This time round I didn't want her to have to go through the same thing so I looked for something that would help her. I came across Ethos elan Vital through a friend who had tried it before and said it was a really good product. I started my cat on it about three weeks before the operation and she had it all the way through. I think it really helped because she was nearly healed after just 2 weeks his time. For any future operations or problems I will definitely be using the same product and I want to keep giving it to her daily just to keep her general health good.
Vivian - USA
My lovely dog patti, a Labrador was overweight and developed high blood pressure. The vet told us to change his diet and I saw the advice on healthy eating for pets on ethos heaven website. I give him more exercise but because he was very old he couldn't do much exercise. I had to look for a different way to lower his blood pressure and found that Elan could do that. After taking it daily for 2 months we found that his blood pressure reduced to normal levels.
Owen - France
Ethos have helped my dog recover from a skin problem that left his skin dry and his fair very clumpy and falling out, a year later and he has a nice soft healthy coat again.
Mandy - UK
My dog takes Ethos every day for her general health. She's my baby and I would hate anything to happen to her so I give her this to keep her vital organs healthy.
Ethan - North Wales
We got a puppy cocker spaniel last year but he was the runt of the litter and was born with a heart defect. He tired quickly and was quite weak. My wife came across your products when she was researching on google what the vet had prescribed. We decided to try the Ethos Vital to see if would help and we really think it's made a difference, since being 3 months old we've introduced it into his diet daily and he is much more able to play and run around than before. The vet said his heart muscles are a lot stronger now and he is surprised by how well he has come on as he was expecting him to have to have an operation when he was older - highly recommended.
Eamond, Dublin, Ireland
My little girl begged for a puppy for Christmas so we eventually gave in and got her one. We chose a little pug as they are small and ideal for the house. Unbeknown to us the pup had a skin condition which developed over her first couple of months. However within a few weeks of using Ethos Vital in his food with goat milk and the fur started to grow back and she wasn't scratching anymore.
Annard - Amsterdam
My 10 year old boxer has really stiff legs from old age for her his breed. I started putting the ethos vital in his food and with 2 months he was moving more freely. Still not 100% but his life has improved and his able to go for short walks in the park and along the canals.
Oscar - Luxemburg
I have a 7 year old collie called wella, until last year we also had her brother. We had them both since very young and they had always been best friends. Sadly we lost her brother last year to a tumour and since then wella has been mourning. She never wanted to play or walk, rarely ate and she didn't seem to be getting over the loss. We desperately searched for a solution and started using Ethos Vital on her food. Within a week or two she was eating again, willing to go out and getting back to her normal self. Can't thank this product enough as we really thought we may lose her too.
Harry & Larry - London
My dog Larry, developed cancer when he was 3 but luckily we caught it early enough and he overcame it. To try and get him back to full health quickly and give his immune system a much needed boost after the illness my friend told me about Elan Vital by Ethos. I started giving it to him twice a day with his meal and he quickly made a full recovery.
Hannah Dearman - Gocek, Turkey - November 2013
I have an eleven year old border collie that weighs about 69 pounds and we administered 1 1/2 tablespoons a day. He has hip problems, and spends a lot of the day just laying down than he used to. We started using ethos elan vital for pets 3 months ago in wet food and have noticed an improvement in her walking and wellbeing. Thank you
Mark Jeynes - Barkers Creek, Victoria, Australia - October 2013
This is a product for dogs like no other. My dog has arthritis and a skin condition - in just a few days, she seemed to have more mobility back to a standard where we can have long walks again. Then 2 weeks later fur started to grow back on patches where she had been scratching. I would highly recommend this to any dog owner.
Gemma Adams - Royston , UK - Jan 2014
I have a 7 year-old Alsatian mix, Tommy, who has arthritic knees and hips. Our friend recommended us to give her an ethos elan pet's supplement for a few months. We administer it at home. It works! After using it for 3-4 weeks, I noticed that Tommy has more energy and is moving better. Finally, something that is both effective for her and our pockets. She looks forward to it every day. Thank you ethos for bringing some happiness pain free life back into our pet and family member.
Jayne Wyle - Bath, UK - Jan 2014
I Sprinkle this on my dog's food every day and her personality has improved greatly since losing her companion some months back.
Louise Jury - Amsterdam - Nov 2013
I have a 10 year old Golden lab and this helps with the morning stiffness in his hips and legs. Highly recommended
This amazing product contains ignotine. Ignotine naturally occurs in our bodies and in our pets bodies, but as we age we lose this special chemical. Ethos Elan vital for Pets contains the very purest form of Ignotine to replace what is lost therefore extending the overall life expectancy for our beloved friends. Ignotine in our bodies and those of our pets will always diminish with age and this is thought to be a major factor to the ageing process.

It is safe to take with any other medication when given as a health supplement. It is scientifically proven to actually rejuvenate cells and those of our pets. Elan vital for pets protects and extends the functional life of the heart, kidneys and brain cells of your beloved pets meaning you are maximising their lifespan.