Elan Vital Anti-Ageing Rejuvenation

Ethos Elan Vital is another amazing product from Ethosheaven. This powder contains the natural super ingredient ignotine. Among its many amazing health properties, it goes to work as soon as you start taking it making your old body cells younger again by rejuvenating damagaed cells in the body, brain, eyes, muscles, skin and a general antioxidant for wellbeing.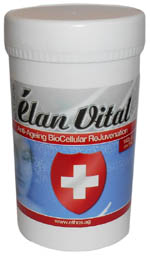 Ethos Elan Vital
Ethos Elan Vital Anti-Ageing BioCellular Rejuvenation
More Information
Ethos Anti-Ageing Elan Vital Ignotine
Ignotine is a major tool in the fight against ageing and degenerative diseases. It is found in all cells, but found in higher quantities in the heart, brain, kidneys and muscles. Ignotine can be found naturally in our food and in the wild, animals who live longer have been found to have ignotine in their cells. As our bodies or pets age the levels of ignotine decrease. When reintroduced into our bodies, it has been proven that ignotine rejuvenates cells and works as an anti-ageing agent.

So, how does Ethos Elan Vital work?
Ethos Elan Vital contains ignotine in the purest form available. Ignotine works in an amazing way as shown below:
Ignotine enhances the memory function of our brain cells and stops the over stimulation of certain receptors which in some situations can lead to strokes
Scientifically improves our immune system and protects cells from damage
Ignotine protects cellular DNA better than any other antioxidant under the stress of toxic levels
Protects our skin and fights wrinkles
Heals wounds quickly
Known to lower blood pressure
Converts body fat into energy
Ignotine protects and restores the body after alcohol and drug abuse
Recommnded Usage and Dosage:
For best results it is recommended the daily intake of Ethos Elan Vital is one teaspoon a day. Ethosheaven suggest taking half a teaspoon in the mornings and half a teaspoon in the evenings, preferably at least 30 minutes before meals. Alternatively, one teaspoon can be added to a bottle of mineral water and sipped regularly throughout the day.
Unlike many health supplements, Ethos Elan Vital is a real pleasure to take. It simply dissolves in your mineral water or the freshly squeezed fruit juice of your choice and is tasteless, colourless and odourless. So you don't even know that you are taking it ... until you begin to see and feel the results for yourself.
Ethos Elan vital is 100% safe and 100% hypoallergenic - it is naturally occurring in many foods and in the body itself.
What is Ignotine?
Ignotine is a chemical which occurs naturally in our bodies and is made up of amino acids known scientifically as N-beta-alanyl-histidine. Our nerve cells and muscle cells contain lots of Ignotine. We are born with high levels of Ignotine in our bodies but unfortunately it decreases with age. The good news is that you can now replenish your supplies of Ignotine naturally with a daily supplement of Ethos Elan Vital which has been created by Ethos Schweiz LLC and is the very purest form of Ignotine available containing 99.9%.