Elan Vital Anti-Ageing Rejuvenation
IGNOTINE ANTI-AGING
Studies worldwide have shown that Ignotine is one of the major tools in the fight against aging and degenerative disease in the human body.

Ignotine is found in the heart, kidneys, brain cells and muscles. But as we age it comes inefficient and decreases. it is one of the primary factors leading to the ageing process.

Eating healthy food high antioxidants naturally replaces ignotine and taking ethos elan vital is shown to rejuvenate cells in the human body and slow down the aging process with amazing results.

Pure 100% Ethos Elan Vital - 100g Powder

Pure Ignotine Designer Health Supplement for Anti-aging

Labelled 'The Fountain of Youth' for its unique anti-aging properties

Incredible breakthrough in human nutrition has astonished medical experts

Unique Cellular Rejuvenating Properties Extend the Life of Cells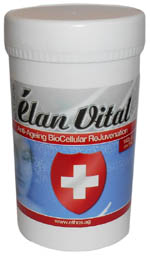 Ethos Elan Vital
Ethos Elan Vital Anti-Ageing BioCellular Rejuvenation
More Information
Benefits of Ethos Elan Vital :

- Protection of skin and fights wrinkles
- Wound Healing
- Brain Protection
- Improves Calcium Response
- Cellular DNA Protection
- Lowers Blood Pressure
- Improves immune system
- Converts body fat into energy
- Protects and restores body after alcohol and drug abuse

For best results: the recommended daily intake of Ethos élan vital is one teaspoon a day. We suggest taking half a teaspoon in the mornings and half a teaspoon in the evenings, preferably at least 30 minutes before meals. Alternatively, one teaspoon can be added to a bottle of mineral water and sipped regularly throughout the day.

Unlike many health supplements, Ethos élan vital is a real pleasure to take. It simply dissolves in your mineral water or the freshly squeezed fruit juice of your choice and is tasteless, colourless and odourless. So you don't even know that you are taking it ... until you begin to see and feel the results for yourself.
Reviews
Michelle - UK
Great product! Been using if for 3 months (1 TUB) now and I wasn't expecting this much of a difference!
Fran - Canada
I was looking for something to slow down the ageing process as I could see and feel my body getting older. After some research I found that Ignotine is vital in fighting aging and as you get older your body produces less and less and what it does produce becomes inefficient. When I was looking for Ignotine products I came across Elan Anti-Ageing Rejuvenation powder. I have been taking a teaspoon both first thing in the morning and late at night for the past 3 months now. I have really noticed an improvement in my skin which seems to sag less and my wrinkles are not as prominent. I also feel that I have more energy than before. Of course I realise that my skin will never be like when I was young again but if I can use something easy every day like this powder then I shall do. I have used most anti-aging creams available and very few have had the same affects and the odd one that has is normally 3 times the price that I paid for this powder.
Gary - Swansea, Wales
I've been conscious of my ageing for some time now but I have sensitive skin meaning I can't use many creams. My friend told me about the Elan anti-ageing rejuvenation powder and I got some. Results have been slow but my skin is definitely looking better. Wrinkles have reduced slightly and I have more colour in my face. Before it was looking a bit grey and washed out.
Hank - USA
I'm one of those people that gets ill all the time, especially colds. I don't like taking tablets because I can't do it very well so I wanted something that I could take and would improve my immune system. I came across the rejuvenation powder by Ethos Heaven and thought I would give it ago. I've been using it for about 2 and a half months now and I have only had two small colds whereas normally I've got a cold every other day. They haven't been as intense either. I'm not sure if maybe there just isn't much around at the moment but I think the powder has had an impact.
Umar - UK
I got the rejuvenating powder for my mum for Christmas because she wanted it and she said its working really well she thinks her skin is looking less tires and she has more energy. It has also lowered my blood pressure to normal for someone my age 63.
Daren - France
My doctor diagnosed me with high blood pressure and told me to change my diet and exercise routine. Along with that I decided to look for something to help. I tried anti-ageing rejuvenation powder by ethos and I have been taking 2 spoonful's a day for 3 months, I recently had a check-up with my doctor and he told me that my blood pressure is reducing. Still got a way to go but I'm going to continue with what I'm doing and the powder for now.
Amy - UK
I Use the rejuvenation powder every day and have done for the past 4 months. Since using I feel I have more energy and just generally healthier. Thank you ethos
Simone - France
The anti-ageing powder is great for helping with skin issues. I've been using it for 6 months now and I used to get various forms on eczema with open sores. Since taking it I've noticed fewer sores, they heal quicker and some of the problems on my skin have cleared up.
Kenneth Forrester, Scotland
I have been a diabetic for a number of years and take insulin twice a day. My blood sugar level has been inconsistent which is usually high then low, but should be 7-2 or there abouts. Since I have taken Ignotine my blood sugar has improved to what it should be.
As for the Eye Drops, they have also helped my eyes as I had a slight shadow at the back of my eyes a year ago. When I got my diabetic check-up, it was all clear."